Tags:Food and AgricultureKanto
Sagamihara City, Kanagawa Prefecture, etc.
Increased interest in expanding the spread of the Nature Farming Method and community enrichment
On August 7th and 8th, the "Nature Farming Method Kanto Region Information Exchange Meeting 2023 in Kanagawa" was held, with the participation of many MOA Nature Farming Method producers.
Approximately 50 people participated in the "inspection course" on the 7th to tour farmlands in Sagamihara and Isehara cities, Kanagawa Prefecture. As part of our agricultural and welfare collaboration, we have declared an organic village, including the fields of Sakura no Home Welfare Farm, a social welfare corporation in Isehara City, where users with disabilities grow, process, and ship vegetables using the Nature Farming Method. They visited Tsukui Marusei Farm, which practices organic farming in Sagamihara City, where they live, and Mona no Oka, the city's agricultural experience facility. At the meet-and-greet, participants talked about their impressions of the farmland tour, as well as their own activities, such as their work to create an organic village in their hometown.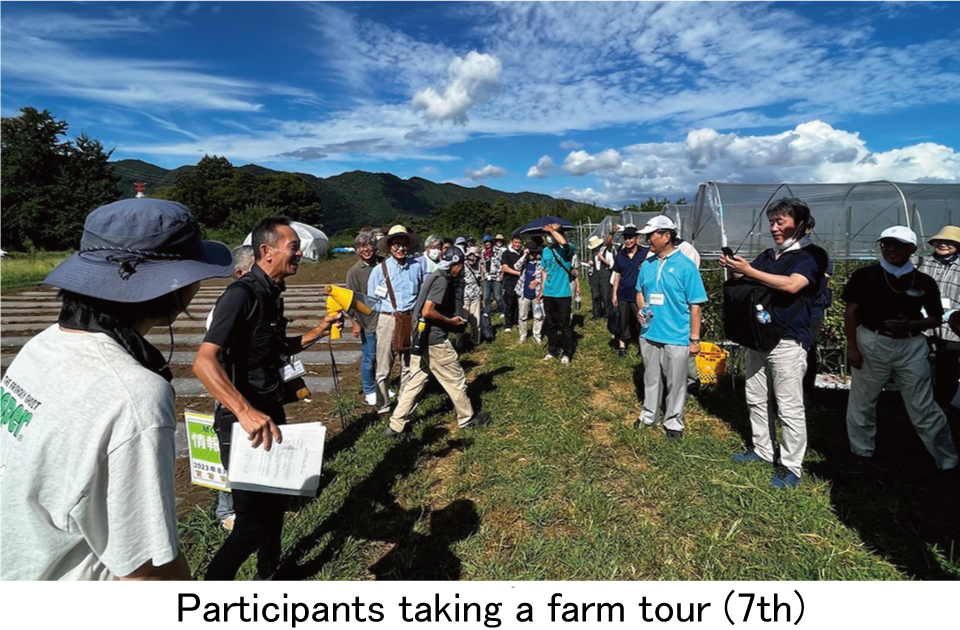 Approximately 40 people gathered for the "Wellness Center Course" on the 8th and toured the Tokyo Wellness Center, an integrated medical facility near JR Shinagawa Station. Participants enjoyed the natural food bento boxed food made at Restaurant Shun within the hospital, and those who requested experienced the Okada Wellness Program like the Okada Purifying Therapy and Art and Culture Method.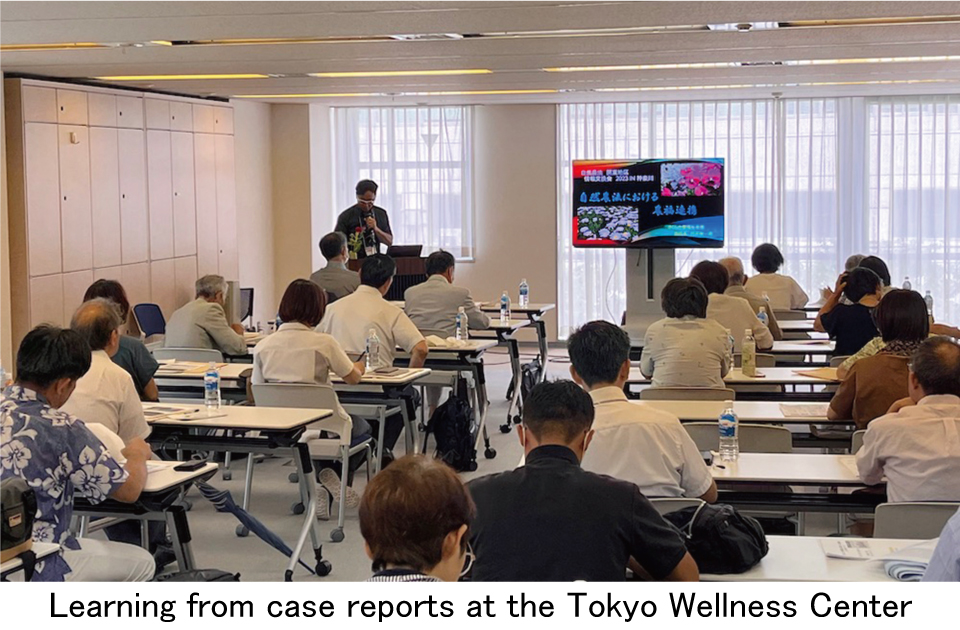 In addition, as the Green Food System Law comes into effect, we are collaborating with local governments and forming a network with Shizuoka University and nearby agricultural high schools to develop human resources. Attended a lecture by the principal of a university on "Developing human resources for organic farming who will collaborate with the government and related organizations." Yuichiro Murai, Director of Sakura Home Welfare Farm, gave a lecture titled "Agricultural Welfare Collaboration in Nature Farming Method," in which he worked to secure employment and improve wages for people with disabilities, and provided know-how on agricultural welfare collaboration in partnership with farmers and prefectural support facilities for people with disabilities.
Participants said, "In addition to focusing on growing crops using natural farming, I realized that it is necessary to make friends in order to expand its use" and "I learned that connections between people and relationships of trust are forever important. Mr. Murai's agricultural and welfare collaboration activities will be helpful when working with the local government," and after experiencing the Arts and Culture Program at the Tokyo Wellness Center, one said, "It was my first time looking at a single flower for a long time." However, I was moved by the fact that I was able to have time and space where I could enter my own world with flowers. I felt the power of flowers to give me a feeling of satisfaction and pleasure that cannot be expressed in words."