Tags:Medical and HealthFood and AgricultureKanto
Mito City, Ibaraki Prefecture
Researcher Kato discussed with doctors and care providers
The 22nd Japan Society for Organic Agriculture Conference was held online on December 4 and 5 at Ibaraki University with 153 agricultural researchers participating. Kotaro Kato, a researcher at the Institute of Agriculture, Environment and Health, chaired the general session, "Agricultural-Medical Collaboration and Organic Farming," which attracted much attention.
The opening remarks by Researcher Kato touched on the importance of agricultural-medical collaboration that reconnects the farmers and doctors who had been separated for too long. He introduced the activities of Ohito Zuisenkyô where the agricultural-medical collaboration is advancing. He asked the care providers, doctors, and agricultural researchers to think about the ideal way of cooperation between agriculture and medicine, centered on the Nature Farming method and organic farming.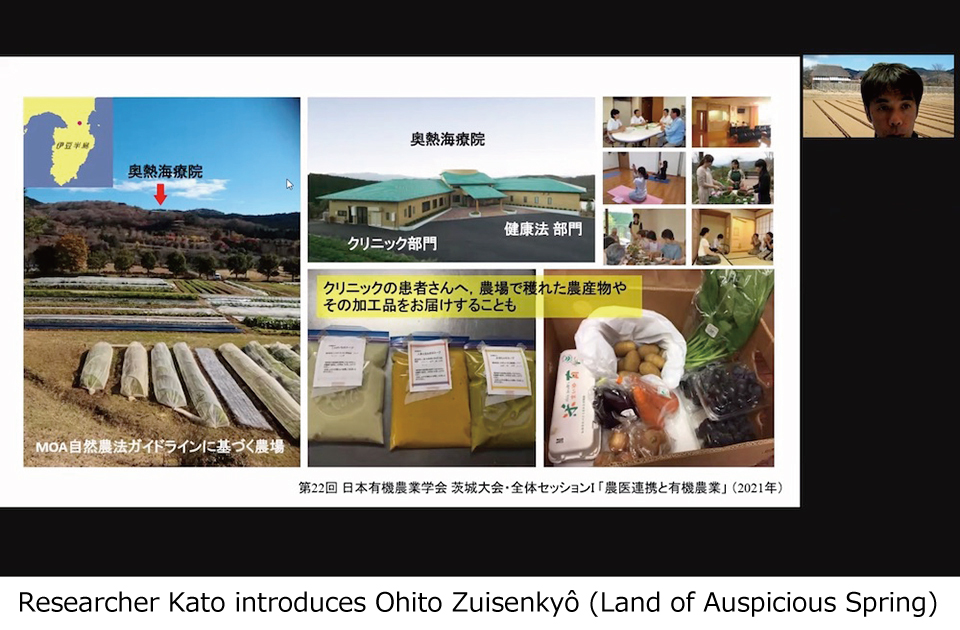 Mr. Miya Kudo, representative of Twinkle Life Senior Living, introduced that their group home "Misaki's Home," where senior citizens with dementia live, incorporates Nature Farming Method agricultural products in their meals. The residents prepare meals together and enjoy eating while talking to one another. In such a setting, their appetites have increased; thus, their health has improved. There was a case of a resident who recovered from leg necrosis. He is now able to walk independently. Some residents were able to consume food, as long as they were natural foods, until the last day of their life. He stated that eating vital foods on a daily basis is the greatest way to prevent illness and improve symptoms.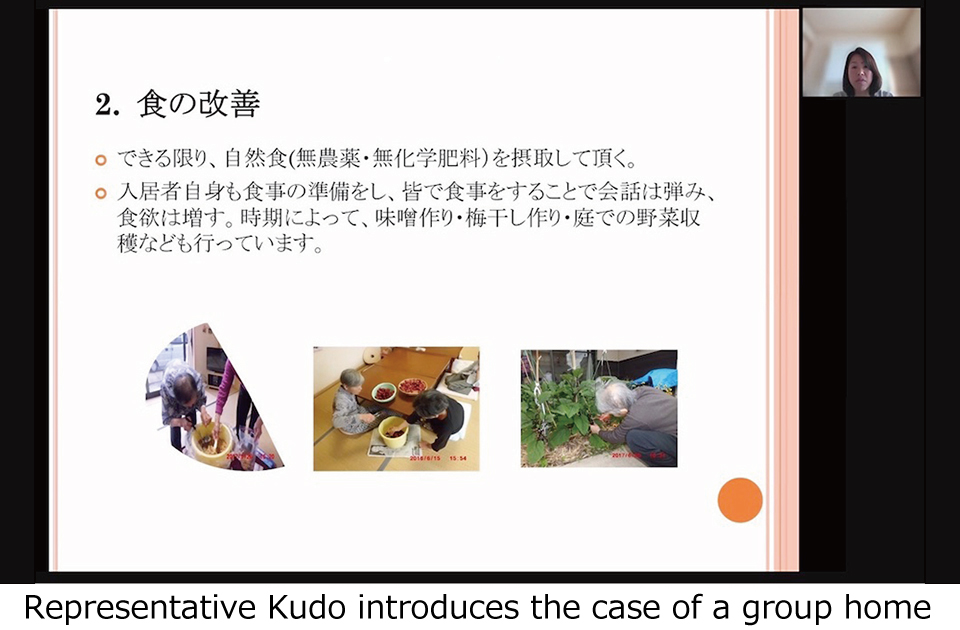 Tetsuya Nishimura (Mutual Aid Association for National Public Officers), a doctor at Yokohama Sakae Kyosai Hospital, explained the characteristics of allergic diseases. He introduced that research results showed that children, who are exposed to various microorganisms on a farm rich in nature, are less likely to develop asthma symptoms. He also shared about the intestinal bacteria of children, who develop allergies, are lacking in diversity. He said that the cooperation of agriculture and medicine would lead to effective prevention of allergic diseases.
Yoshihiko Sugioka (General Incorporated Foundation), a doctor of Shinkiyama Hospital Group Ueno Hospital, revealed that the Nature Farming method was able to harvest about 80% of the normal harvest in the Tohoku Great Cool Weather Damage (1981) when the yield of many rice paddy fields was reduced. Taking the research in the above as an example, participants confirmed the importance of science that emphasizes the actual effect from the emphasis on research in the laboratory. He introduced Mokichi Okada as an advocate and practitioner of the Nature Farming method. The core idea is that "soil and nature have the power to grow agricultural products." Original agriculture is established on the basis of that "respect for power." If "the body has the power to cure illness and maintain health," the original medicine "is established on the attitude of respecting the power of the body." If such ideas of Okada can be supported by science, he said that the philosophy of cooperation of agriculture and medicine can lead to new medicine and new agriculture. He shared his enthusiasm to provide scientific research.
Sadao Eguchi (National Institute for Educational Policy Research), Senior Researcher, National Agriculture and Food Research Organization, explained about reactive nitrogen, which continues to increase due to food production and disposal. He introduced the current situation that exceeds the level that humans can control and has a serious impact on the global environment and biodiversity such as water quality, air pollution, and warming, and has a low environmental load as a means to effectively circulate nitrogen. He communicated the need for the development and expansion of the next-generation model organic farming technology, healthy eating habits represented by Japanese food around 1975, and the need to reduce food loss.
Researcher Kato and each presenter discussed and confirmed that agriculture and medical care, which are related to human life, have a common theme of "how to live." They have confirmed the possibility that cooperation between agriculture and medicine will bring about a paradigm shift (change of values) in reviewing the future of human beings and society, not only in the fields of food and health. During the discussion, participants, who were listening to the broadcast, asked questions via chat which indicated a high level of interest.
With the Ministry of Agriculture, Forestry and Fisheries setting a goal of "increasing the ratio of organic farming efforts to 25% of the cultivated land area by 2050" in the "Green Food System Strategy," further expansion of organic farming is required. In addition, sessions on "Protecting Biodiversity and Organic Agriculture" and "Challenge to Expand and Promote Organic Agriculture in Ibaraki, an Agricultural Powerhouse" and research presentations on organic farming technology were held at the conference.