Tags:Art and LifeChubu
Atami City, Shizuoka Prefecture
There is also a craft dining where you can enjoy food with the vessels of traditional craftsmen.
On May 31, the "40th Anniversary Atami-za Martha Argerich & Living National Treasure Bunzō Otsuki Special Performance" was held at the MOA Museum of Art. Approximately 500 people packed into the Noh Theater. With the cooperation of the Argerich Arts Promotion Foundation, Martha Argerich, the world's best pianist; and Bunzo Otsuki, a Noh performer of the Kanze style and an important intangible cultural property holder (living national treasure), co-starred. Argerich performed at the Noh Theater in 2017 and 2018 and this is her third performance at the theatre.
The opening performance was by Argerich, Rintaro Omiya (violin), Gentaro Sakaguchi (viola), and Hiroya Ichi (cello). They performed Beethoven's "Three Piano Quartets No. 3 in C major" on the Noh stage. Then, Otsuki, who appeared in turn, performed the dance "Kantan" to the song.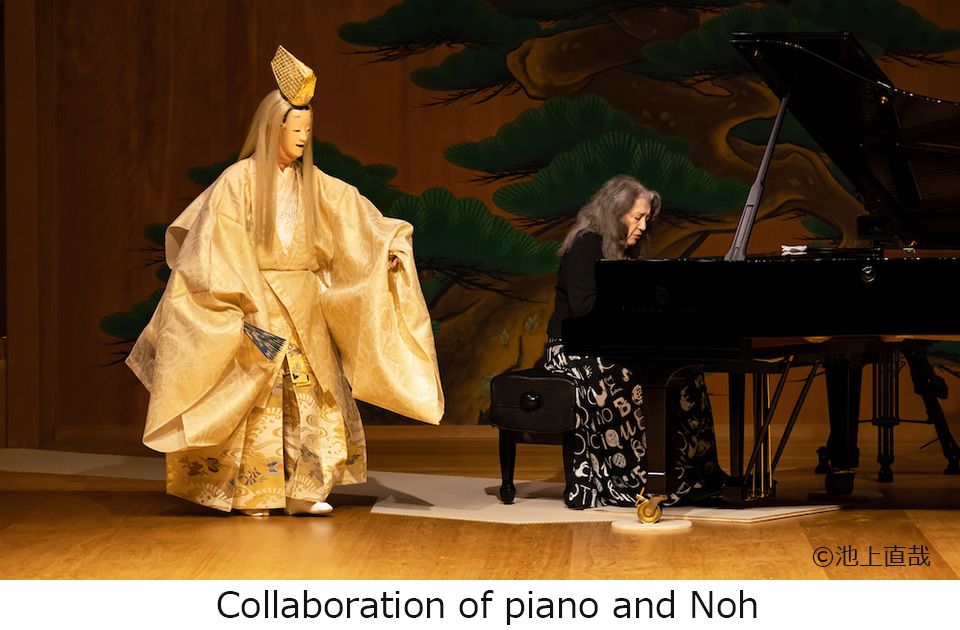 Mitsujiro Tatsumi, a Noh performer of the Shite Hosho style, who was in charge of the stage production, explained the contents of the performance. Otsuki wore a Noh costume and Noh mask and appeared and performed a Noh dance with emotion to the Bach "Partita No. 2 BWV826 in C minor" performed by Argerich. The co-starring of classical music and Nogaku fascinated the audience. Argerich and Otsuki made a curtain call to the thunder of applause at the end. They held their hands together and responded to the audience with a smile.
On the day of the event, the "4th Kōgei Dining" was held as part of the "Japan Expo," a cultural and art promotion project by the Agency for Cultural Affairs. A special performance at the Noh Theater was added to the program, and a premium talk by Tatsumi was also held.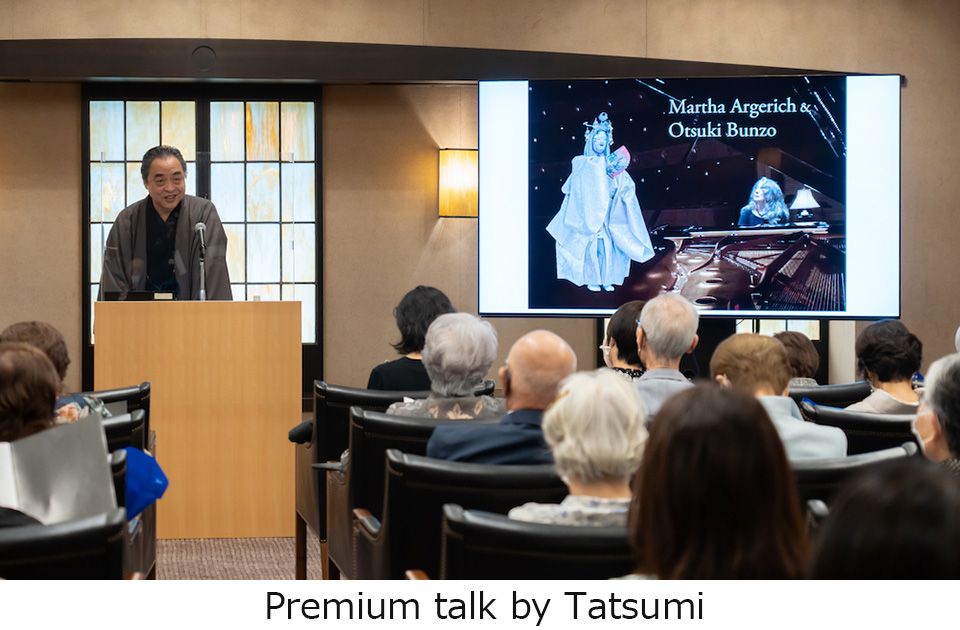 After enjoying the performance, the audience had dinner with a pre-selected Japanese or Western course meal. Japanese food was prepared by Ryuji Yoshitomi, chef of the restaurant "Hana no Chaya" at the MOA Museum of Art; and Western food was prepared by Toshihiko Yoroizuka, owner and chef of "Toshi Yoroizuka," using MOA Nature Farming method vegetables and seasonal ingredients. The Japanese cuisine was served on traditional craft vessels made by craftsmen such as Kazumi Murose, a living national treasure; Kozue Kogata; Morimi Saeki; Toru Suzuki; and Mamoru Teramoto. The dishes served on traditional craft vessels entertained the eyes and satisfied the tongue of the participants.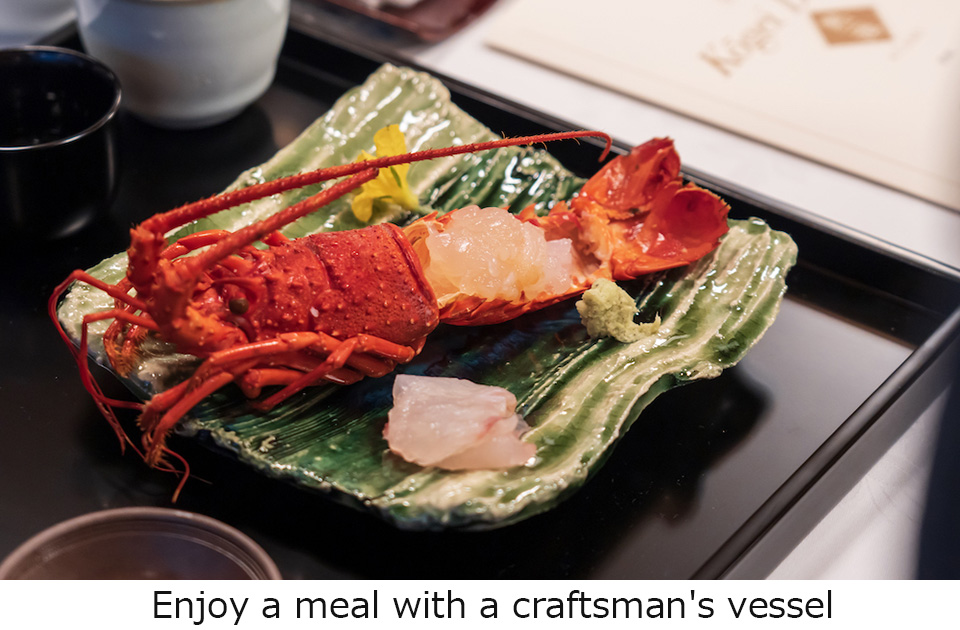 The exhibition "Thirty-six Views of Mt. Fuji and Fifty-three Stations of the Tōkaidō" was also appreciated. The work of the craftsmen, which created the vessels for dinner, were also exhibited and sold.