Tags:Food and AgricultureChubu
Click here for the organic farming symposium held at Ohito Research Farm (morning session)
Izunokuni City, Shizuoka Prefecture
Sharing the need to develop human resources involved in organic farming
At the afternoon session of the 8th Symposium "Considering the Spread and Promotion of Organic Farming" held on August 5 at the MOA Training Center, Mr. Akihisa Iwamoto, President of the Agriculture, Environment and Health Research Institute explained his wish behind this symposium.
A video message from Shizuoka Prefecture Governor Heita Kawakatsu was shown. Governor Kawakatsu shared his impressions when he visited the Ohito Farm last autumn. After introducing Shizuoka Prefecture's goals for the popularization and expansion of organic farming, he said, "The history of Shizuoka Prefecture matches the philosophy of the Nature Farming Method College or the Agriculture, Environment and Health Research Institute." Masayuki Yamashita, mayor of Izunokuni City, and Takeshi Toyooka, mayor of Mishima City, who supported the event, took the stage and spoke about their hopes and determinations for the spread and expansion of organic farming.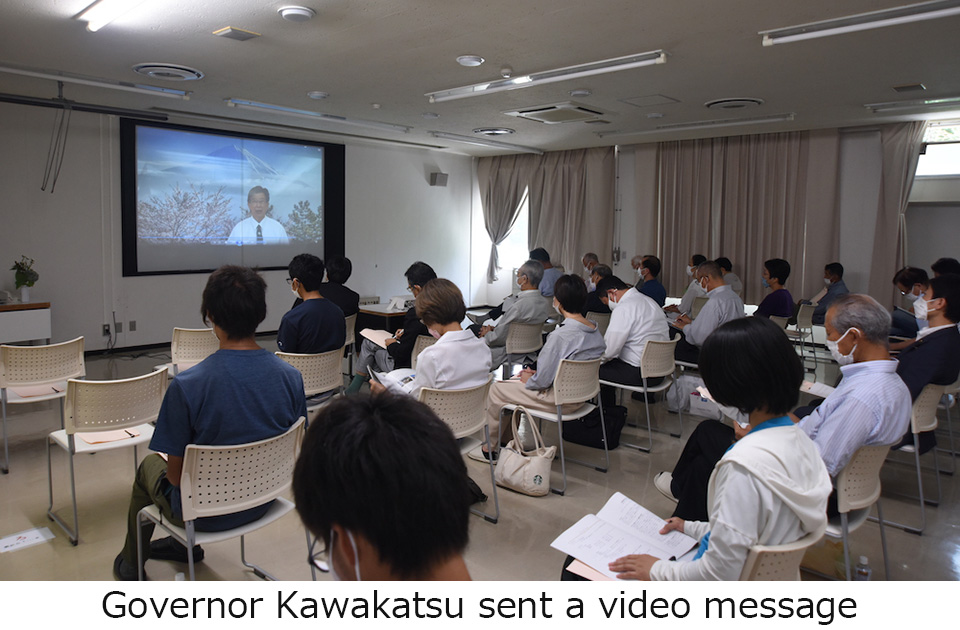 Mr. Kanehiro Oyama, Specialist in the Agricultural Environment Policy Division, Agricultural Products Bureau, Ministry of Agriculture, Forestry and Fisheries, gave a speech. He emphasized that he has set a very ambitious goal of expanding the organic farming area to 25%, or 1 million hectares by 2050 based on the May 2021 policy of "Strategy for Sustainable Food Systems." At the same time, he made a strong appeal that the government is working to promote organic farming with a strong determination, stating that it will work to expand the market for organic agricultural products, introduce them for school lunches, and improve distribution.
Shigeru Yoshida, former Shizuoka Prefectural Agriculture, Forestry and Fisheries Strategic Director and Representative Director of NPO Shizuoka Organic Web, gave a keynote speech. He gave a detailed explanation based on various data surrounding organic farming of Japan and the world on two points—"expansion of organic farming" and "desired changes in people's consciousness." He emphasized that the phases of organic farming in Japan are also undergoing major changes and that the manifestation of this is the Strategy for Sustainable Food Systems. In order to achieve this goal, it is important to expand the market; but at the same time, it is necessary to change the consciousness of consumers, producers, and people involved in agriculture. He gave a detailed explanation while introducing numerical data and the results of an awareness survey on organic agricultural products in Japan and other countries, in particular, organic farming in leading countries of Europe.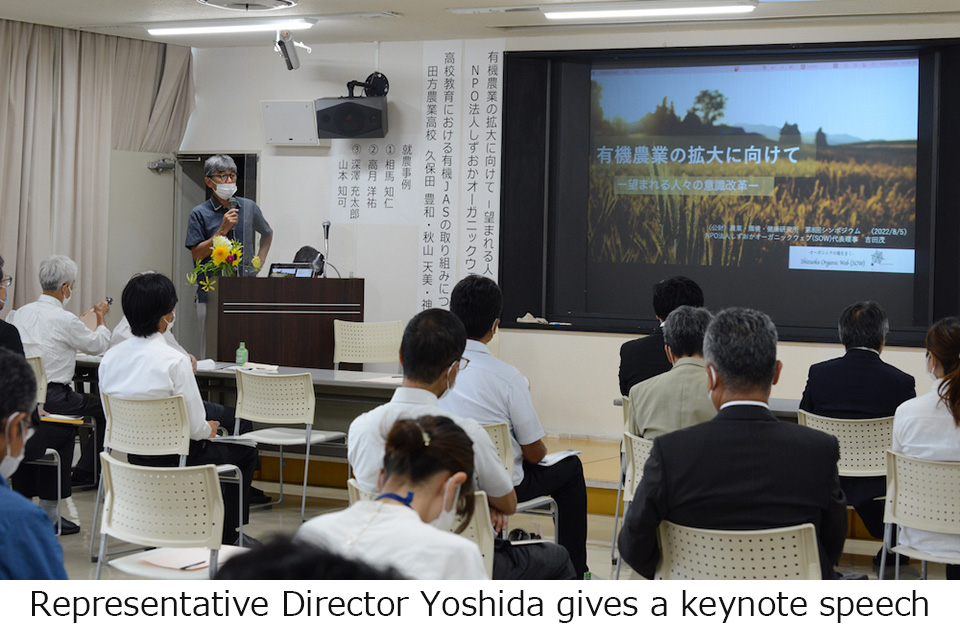 Regarding market expansion and consumer consciousness reform, based on the results of a national food survey conducted by NHK, 85% of the Japanese citizens said, "I would prefer domestic food over cheap foreign food, even if it is more expensive," and introduced the fact that "safety" is the most important factor for food for Japanese citizens. In addition, according to a consumer monitor survey conducted by the Ministry of Agriculture, Forestry and Fisheries, more than 80% of the respondents said they wanted to purchase organic produce, and the number one reason was "safety." Considering these survey results together, he analyzed that there is a high consumer need for safe organic agricultural products. However, only 18% actually purchase organic produce, and he said that the reason for this is that there are few available markets where people can purchase organic products.
He mentions this point in comparison with a survey conducted in Denmark, which has the highest percentage of the organic food market in the world. In Denmark, in order to popularize and expand organic farming, the government is directly approaching consumers, such as by saying that buying organic agricultural products will help with climate change and securing good drinking water. The recognition rate of certification marks for organic agricultural products by the citizens of Denmark is over 90%. He also introduced that in Denmark, they hold seminars for supermarket staff and restaurant chefs. He said that such works are the reason why they are the best in the world.
The Strategy for Sustainable Food Systems Law, which went into effect on July 1, states, "Consumers, in accordance with the basic principles, should deepen their understanding and interest in food systems that are in harmony with the environment. Consumers must make efforts to select agricultural, forestry and fishery products that contribute to the growth of agriculture." He said that this point in the law is very significant. Thus, this is a sign of Japan entering into the new phase in organic farming.
Regarding the consciousness reform of producers, he first explained the data on the aging of agricultural workers and the shortage of workers based on the data. The total number of producers may be down but with various changes in the system, new practitioners are said to be increasing. He shared that nearly 25% to 30% of new agricultural practitioners are practicing organic farming. On top of that, recommending organic farming to existing conventional farmers while putting safety and security at the forefront may be risky since they will be asked, "what have we done all these years?" or "are our efforts not recognized?" He said that it is necessary to provide detailed explanations to conventional farmers, for example, "agriculture that has less impact on climate change by avoiding the use of chemical fertilizers as much as possible." To that end, he emphasized that it is important for government officials involved and farmers to deepen their understanding of organic farming as a whole, as indicated in the Strategy for Sustainable Food Systems.
He introduced that one of the goals of the 4th Dietary Education Promotion Basic Plan, which started in 2021, is to increase the number of schools that will utilize locally produced items in their school lunches. He expressed his desire to make these local products for school lunches into an organic farm product. According to an actual survey using Social Media, 96% of the people actually want school lunches that use organic produce. He asked for the understanding and cooperation of the people in charge of the prefecture and municipalities.
In the end, he mentioned about the human resource development of producers. He proposed that the Prefectural College of Agriculture, Forestry and Environment in Iwata City in the western part of the prefecture and the Nature Farming Method College in the eastern part of the prefecture form a "liaison meeting" to develop human resources in cooperation with Shizuoka University and the agricultural high schools in the prefecture. In addition, he emphasized the need for prefectures and municipalities to work together to develop human resources involved in organic farming. He shared that he has high hopes for the steady efforts of Principal Tasaka, who is working hard to achieve this, and for the activities of the Agriculture, Environment, and Health Research Institute, which is both a research institute and an educational institution, to become even more fulfilling.
Principal Kubota and students of Shizuoka Prefecture's Takata Agricultural High School made an activity report titled "Works of organic JAS in high school education." Next, Mr. Tomohito Soma, a graduate of the Nature Farming Method College, and Mr. Yosuke Takatsuki, a graduate of the Shizuoka Prefectural Vocational Training School's organic farming course entrusted by the university, talked about the rewards as a new farmer. In addition, they presented case reports on activities of the "Izu Brand," which they are putting an effort to raise the name recognition of organic agricultural products they and other farmers of Izu produce. Ms. Chika Yamamoto, who graduated from the same university and got a job at the farm of her uncle, Mr. Mitsutaro Fukasawa, took the stage with Mr. Fukasawa. Ms. Yamamoto enthusiastically shared about how Mr. Fukasawa overcame various difficulties and continued to implement the Nature Farming Method for half a century. Ms. Yamamoto shared how she chose to take over the Fukazawa Farm which had no successors.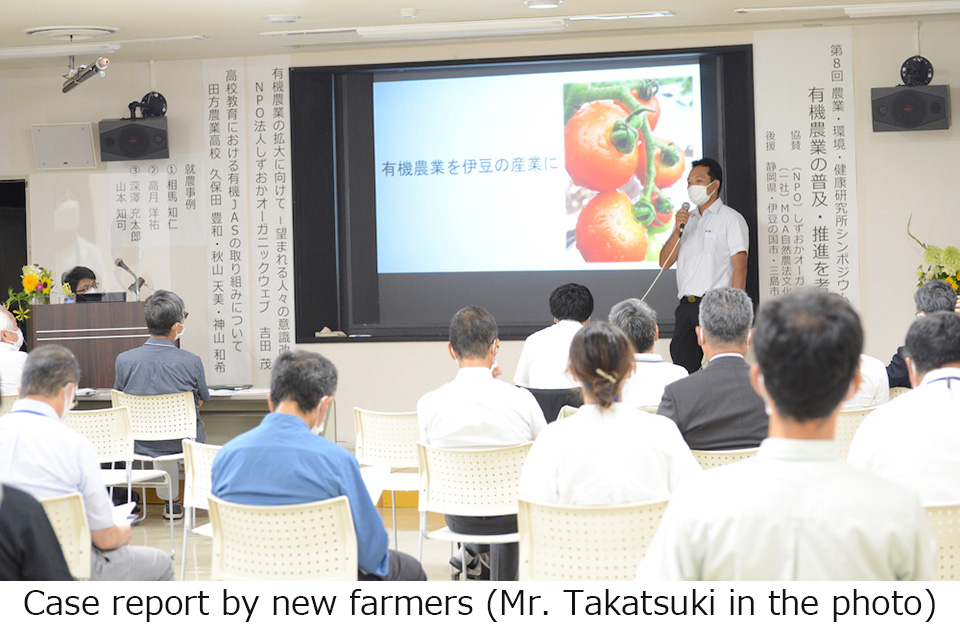 An exchange of the views then took place. Katsuyuki Minami, professor emeritus of Kitasato University, who is also the former principal of the university and is still a lecturer, sees organic farming as truth, virtue, and beauty. "Truth" is the science of organic farming; "virtue" is how organic farming positively influences people with good health. As for "beauty," he shared his belief on how organic farming positively influences the environment. He also added the need of "will." He called on producers, consumers, educators, and others to think about "truth, virtue, beauty, and will" from their respective standpoints.
Hiroshi Muto, head of the Agricultural Environment Section of the Prefectural Economy, Trade and Industry Department's Food and Agriculture Promotion Division shared his plan. He said that people has different directions depending on their position. He said that he would like to think about forming something like a platform to hold discussions among researchers, educators, producers and distributors.
Representative Director Yoshida said that although people from various backgrounds are involved in organic farming, perhaps the common "will" is the awareness that organic farming is necessary for society in the future.
Finally, Shizuoka University Vice President Akio Morita, Executive Director of the Research Institute, said, "I would like to promote information exchange with everyone to promote the spread of organic farming." He called for the Ohito Research Farm as the facility to be used as a training venue for the spread of organic farming.
With this symposium as the starting point for the circle of organic farming to spread widely from cities, towns, prefectures, and to the country, the Agriculture, Environment, and Health Research Institute has decided to develop the farm into a variety of organic farms in the future. In addition to providing a venue for agricultural training and the spread and expansion of organic farming, the people in charge of the local Izunokuni City and Mishima City, as well as nearby municipalities, can promote urban development from the perspective of organic farming. In collaboration, we plan to actively contribute to human resource development through organic farming training guidance projects.

Sponsored by: Institute of Agriculture, Environment and Health
Supported by: Shizuoka Prefecture, Izunokuni City, Mishima City
Sponsored by NPO Shizuoka Organic Web, MOA Natural Farming Method Culture Foundation