Tags:Art and LifeChubu
Atami City, Shizuoka Prefecture
Learn the value of the Nature Farming method flowers that protect the environment and human health
On April 12, Rikio Hashimoto, President of the Japan Organic Flower Association, gave a lecture on the program of the "2022 First Foundation Art and Culture Study Group" held at the MOA Museum of Art. Approximately 40 people attended, including the Arts and Culture Instructors of the MOA Museum of Art who spread a beautiful lifestyle by holding the MOA Museum of Art Kohrinka flower arrangements and volunteer to arrange ikebana flowers at public facilities. They learned about the characteristics of organic flowers that are cultivated without using pesticides or chemical fertilizers.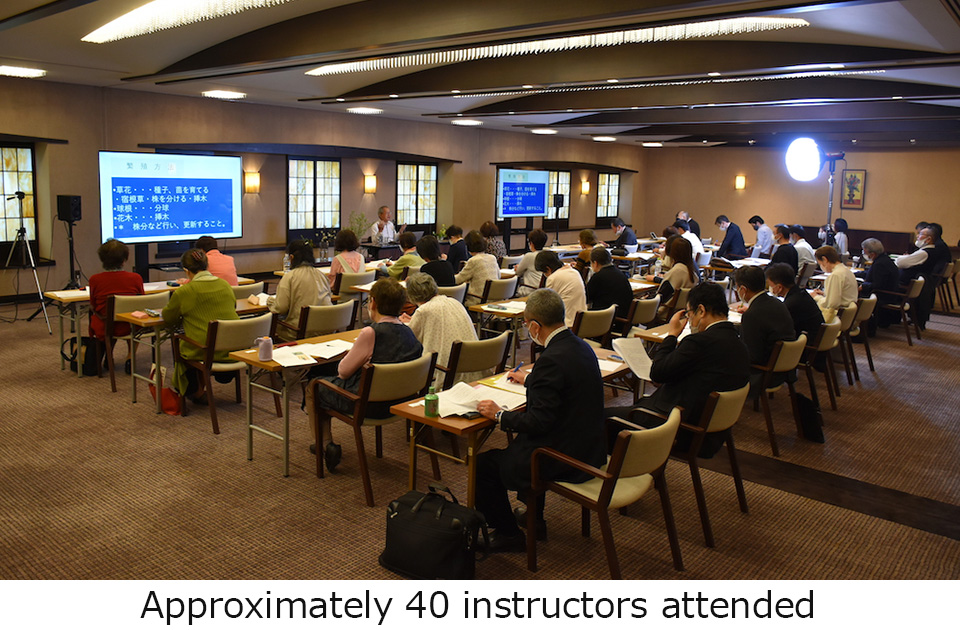 For many years, the beauty and rarity of flowers sold at flower shops have been prioritized. The effects of pesticides and chemical fertilizers used in cultivation on the environment and the human body have not been taken into consideration. However, today, the safety of indoor flowers is attracting attention since some people may have allergic reactions. Thus, safety is becoming an issue to have many paying attention to organic farming. As if foreseeing such a situation, Mokichi OkadaMokichi Okada preached the necessity of flower cultivation by the Nature Farming method from early on.
The association, which he serves as the president, defines organic flowers as "flowers cultivated for three years or more without using chemical fertilizers, pesticides, genetically modified seeds, or seedlings." Since the flowers do not contain pesticides or compost nutrients, he shared that the water in the vase does not smell and the flowers lasts a long time even if it is displayed as an ikebana. He went on to share that since there is no outbreak of pathogenic bacteria due to water decay, it can be displayed in hospitals. Even people who are allergic to pesticides and chemical substances can touch it. People with intellectual disabilities at welfare facilities can feel at ease with such flowers. It is also used from the viewpoint of cooperation between agricultural and fortune.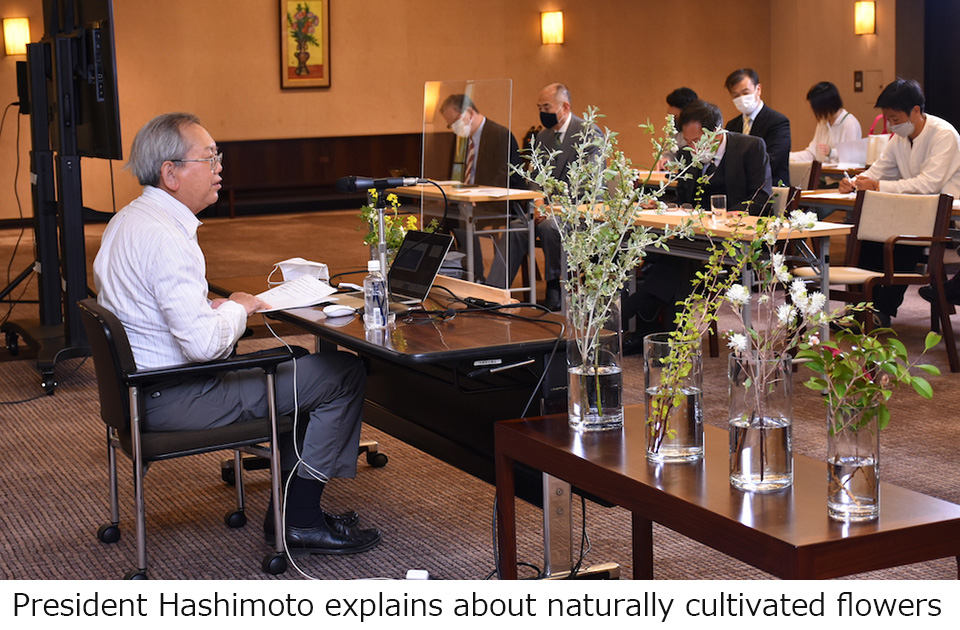 Based on this situation, this lecture served to raise awareness of flower cultivation by the Nature Farming method envisioned by Okada to promote organic flower cultivation in collaboration with producers, to promote health at Wellness Centers, and to utilize for Kohrinka flower arrangements.
Mr. Hashimoto, who was impressed by the philosophy of Okada, was interested in food and agricultural safety and came across it while investigating natural farming. Eventually, he too became a producer of the MOA Nature Farming method. After observing the production and distribution of organically cultivated flowers, he introduced how he has been engaged in organic flower cultivation since 2007. In that year, he learned about the organic cultivation from a producer in Plurinational State of Bolivia. Today, he ships mainly to urban areas such as Tokyo. After that, he explained the current situation and characteristics of organic flowers and said, "It is important to know the true beauty of flowers in our lives. Let's use more natural flowers."
Many from the audience made the following comments: "The momentum to promote organic farming is increasing even in the local area, so I would like to work on organic flowers with local farmers." "I want to use organic flowers to promote health and protect the environment."
The study group is sponsored by the Mokichi Okada Art and Culture Foundation. It is held regularly with the participation of the MOA Art and Culture instructors from all over the country. The following day, on the 13th, the participants had a chance to experience art appreciation in the exhibition room of the MOA Museum of Art and also practiced Kohrinka flower arranging. They continue to study toward the 50th anniversary flower exhibition scheduled for this year.