MOA Health Science Foundation Collection of Research Report No.24 published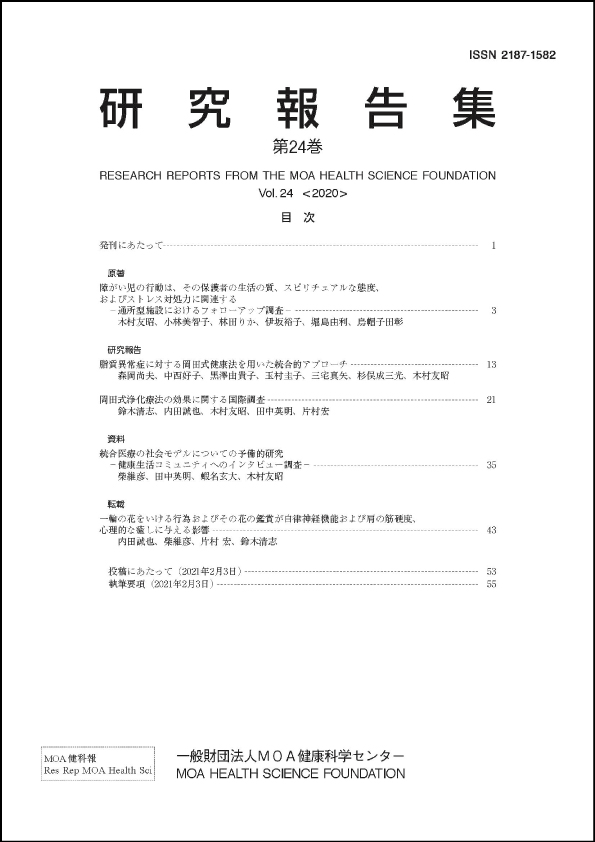 After passing strict standards for publication, the research "International Cross-Sectional Study on the Effectiveness of Okada Purifying Therapy, a Biofield Therapy, for the Relief of Various Symptoms" by President Kiyoshi Suzuki, et al. was published in Vol. 26, Issue 8, on July 30, 2020 of the American journal "JACM" (The Journal of Alternative and Complementary Medicine), which is a globally prestigious journal in the field of integrative medicine. Its Japanese version is included.
In addition, the following research were also published: "The Behavior of Children with Disabilities Is Related to Their Parents' Quality of Life, Spiritual Attitude, and Ability to Cope with Stress–Follow-Up Survey in Outpatient Facilities" by senior researcher Tomoaki Kimura, et al.; "Integrated Approach Using the Okada Health and Wellness Program for Lipid Disorders" by Hisao Morioka, medical director of Gyokusenkai Kanazawa Clinic, et al.; "Preliminary Research on the Social Model of Integrated Medical Care–Interview Survey with Healthy Living Community" by Masahiko Shiba, medical director of Gyokusenkai MOA Nagoya Clinic, et al.; "Act of Putting a Single Flower and Viewing the Flower for Autonomic Nerve Function and Shoulder Muscle such as Effects on Hardness and Psychological Healing" by Seiya Uchida, senior researcher, et al. You can download it for free.
MOA Health Science Foundation