Tags:Medical and Health
Wishing for the spread of a healthy lifestyle
On August 28, the "1st Tasty Community Enrichment Symposium in Chiba," chaired by Minoru Takano, was held at the Funabashi Citizens' Culture Creation Center in Chiba Prefecture. 70 people participated under strict COVID-19 guidelines. This event desired for the popularization of a lifestyle centered on natural foods that enhances the innate self-healing power and the creation of a new community through dietary education.
Mr. Shin Sameda (Chief of Agriculture and Forestry Division, Isumi City, Chiba Prefecture), who introduced organic farming rice for school lunches for the first time in Japan, gave a lecture. He talked about the "Satozukuri (village building) Council that coexists with Nature" that was established by the public and private sectors. He explained how he learned cultivation from scratch and worked on the promotion of organic rice cultivation while obtaining sympathy from other farmers. He also explained how he was able to increase the number of paddy field farmers. He also shared that by respecting the heart of the producers, he worked on forming consensus with the parties concerned and making policy proposals. He said that the total amount of organic rice for school meals, which was thought to be unrealizable, was realized, and that it had a great effect on food education.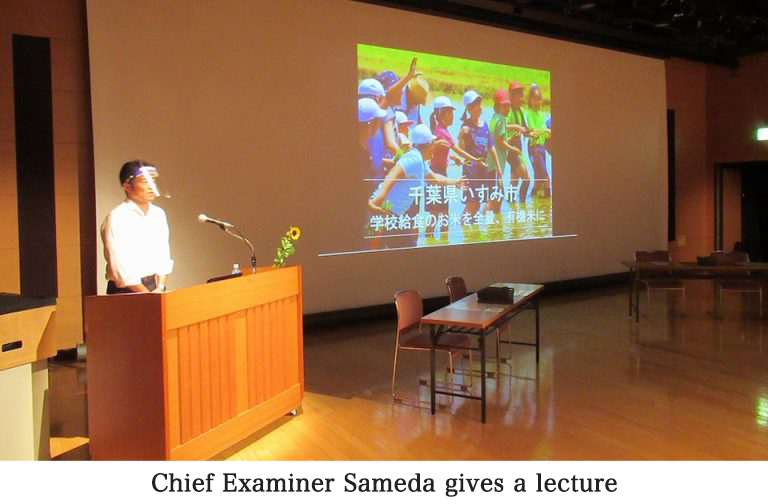 Kotaro Kato, a researcher at the MOA Health Science Foundation, gave a lecture on diet, which is important for maintaining good health. While touching on the importance of disease prevention and the relationship between agriculture and health, he introduced the research results that showed the effectiveness of the Nature Farming method produced carrots that have significantly changed the intestinal flora of humans. From the perspective of "agriculture and medicine collaboration" that links the Nature Farming method and preventive medicine, he called for a foundation of healthy eating habits to be a Nature Farming method that makes the earth, soil, and intestinal flora of humans environmentally healthy.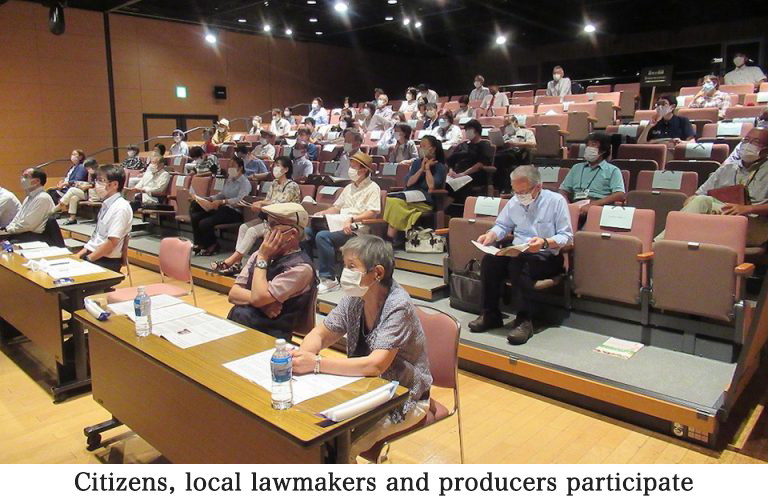 In the panel discussion, Mr. Tadayuki Obata, a producer of the MOA Nature Farming Method Chiba Central Promotion Association; Ms. Shizuko Sato, Representative of Ichikawa City Happiness Club; Researcher Kato; and Chief Examiner Sameda shared reports that, despite the COVID-19, they tried to deliver Nature Farming method produce to their fans, as well as dietary education efforts in collaboration with a local legislator. They also shared about community enrichment and building human resources in collaboration with food and agriculture. The audience received Nature Farming method produce from the Chiba Central Promotion Association.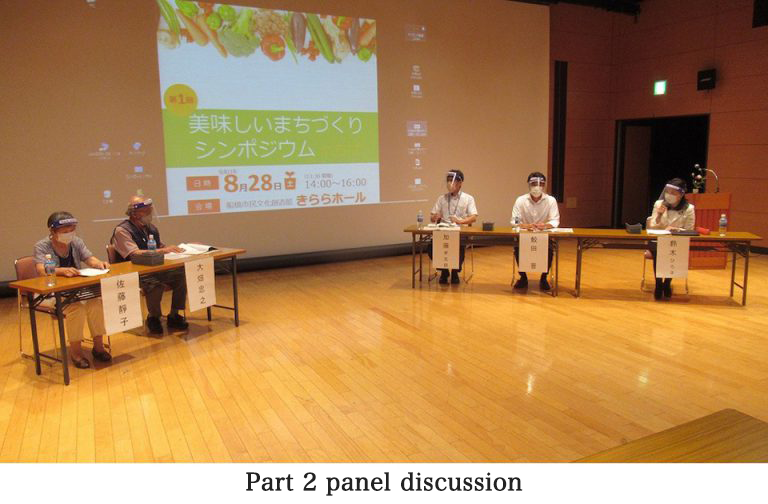 Participants commented, "I heard Mr. Sameda's story and felt that the steady progress with his clear intention led to the result. I was encouraged by the local activities." "As I was thinking of health, I felt the importance of a well thought out daily diet."
A celebratory message from Kotaro Nogami, former Minister of Agriculture, Forestry and Fisheries, for the symposium and his gratitude towards MOA for its dietary education activities was posted in the venue.
Organized by / Tasty Community Enrichment Symposium in Chiba Executive Committee, MOA Food Education Network Chiba, Co-sponsored by Chiba Chapter, MOA Nature Farming Culture Corporation Chiba Federation, Sponsored by Chiba Prefecture, Funabashi City, Ichikawa City, Isumi City, MOA Health Science Foundation