Tags:Art and LifeChubu
Atami City, Shizuoka Prefecture
In line with the desire of the founder who wished for the happiness of people
On May 1, the "70th Anniversary of the Hakone Museum of Art and the 40th Anniversary of the MOA Museum of Art" was held at the MOA Museum of Art Noh Theater. Approximately 500 people enjoyed the performance.
On behalf of the organizer, Director Tokugo Uchida gave a greeting. Mokichi Okada, the founder of the Hakone Museum of Art and the MOA Museum of Art, experienced repeated illnesses, disasters, and bereavement of his wife and child, explored the meaning of happiness for human beings, and proposed current arts and culture activities, as well as the Nature Farming method. In the midst of the reconstruction from the landslide disaster of Atami, the COVID-19 pandemic, and the unstable world situation, he shared that the Noh "Okina" will be performed this time with the desire for people's happiness, national peace, prosperity and abundance.
He also touched upon the Shinsenkyô (Land of Eternal Happiness), which was built by Okada in the hope of improving the human soul through beauty, was designated as a national Place of Scenic Beauty last year. He expressed his deep gratitude for the understanding and support of many people, including the administration of the Ministry of Cultural Affairs, Atami City and Hakone Town and other artists and the public.
After his greeting, the Noh play "Okina" by Kazufusa Hosho of the Hosho-style 20th Sejong Family, the Kyogen performance "Nuritsukke" by Manzo Nomura, and the Maibayashi performance "Takasago" by Manjiro Tatsumi were performed. Great applause was given to the outstanding performances by "Okina" and Nuritsuke which comically showed the relationship of the Daimyo lord and lacquerware craftsman. Everyone was impressed with the highly skilled performance.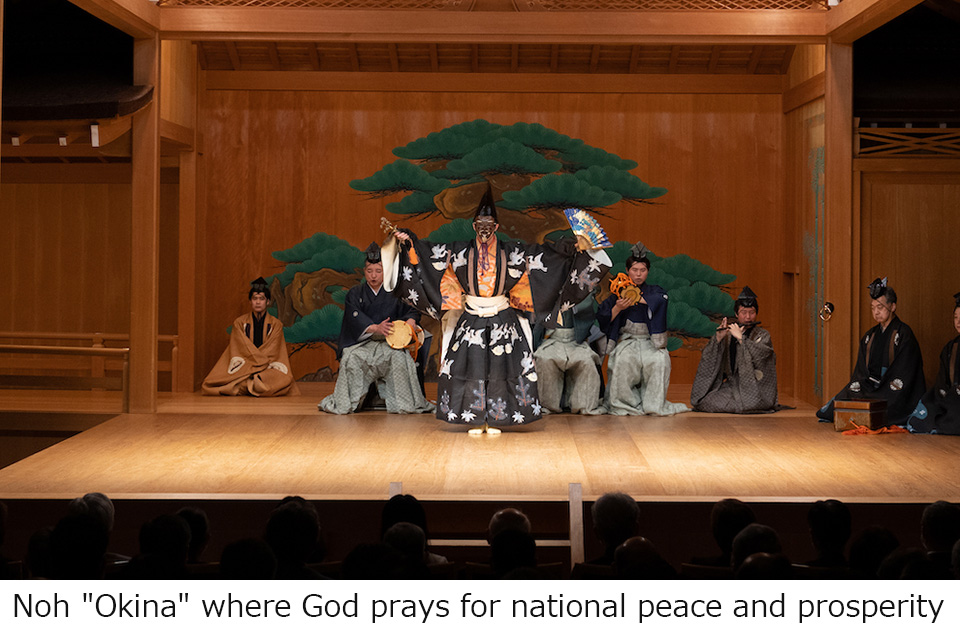 In addition, in commemoration of the 40th anniversary of the opening of the MOA Museum of Art, a "Special Talks with Living National Treasures" was held at the Noh Theater on April 29. Important Intangible Cultural Property holders (living national treasures) Bando Tamasaburo (Kabuki), Kazumi Murose (Makie lacquerware), Noboru Fujinuma (Bamboo Crafts) and Yoshinori Tsuchiya (Monsha figured gauze) went on stage. While on the stage, they touched upon the fact that the natural materials used for traditional crafts are changing due to global warming and acid rain. They called on as many people as possible to use traditional crafts in their daily lives in order to protect traditional Japanese crafts. Visitors listened to the warmth of each person's words, which were spoken with humor with Bando acting as emcee.