Tags:Food and AgricultureChubu
Mishima City, Shizuoka Prefecture
Ministry of Agriculture, Forestry and Fisheries staff evaluates it as an excellent farm business
Mishima city in Shizuoka Prefecture desires that the area of organic farming within the city will expand to 25% (about 1 million hectares) of the domestic cultivated land area under the "Green Food System Strategy" formulated by the Ministry of Agriculture, Forestry and Fisheries. On January 23, Seiko Hashimoto, a member of the Organic Farming Promotion Council, and Hidetoshi Komiya, of the Agricultural Bureau, Ministry of Agriculture, Forestry and Fisheries—leaders of the Sustainable and Organic Agriculture Promotion Team of the Environmental Measures Division—visited the civic farms Yamadagawa Nature Village and Sano Experience Farm operated by the MOA Nature Farming Method Mishima Promotion Association.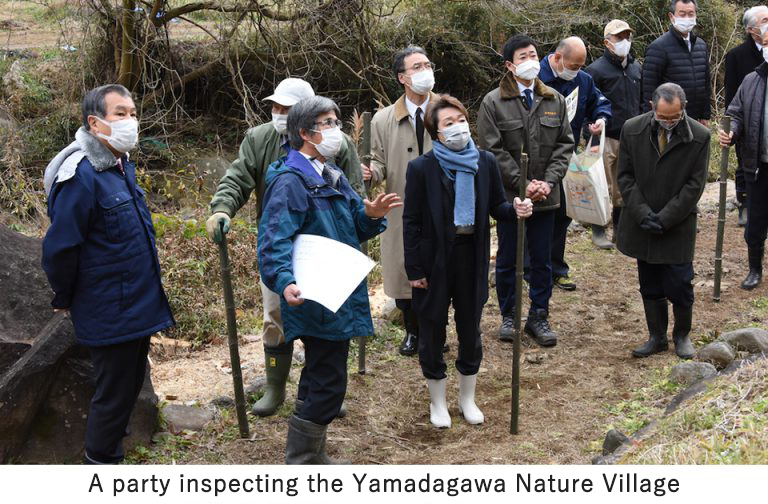 At the request of the city, the MOA Nature Farming Method Mishima Promotion Association has cooperated in the farming guidance and maintenance since the opening of the two civic farms. The MOA group's Agriculture, Environment, and Health Research Institute dispatches Nature Farming extension workers on behalf of the city.
The Yamadagawa Nature Village was opened in 2009 by developing an abandoned previously cultivated land. It is run by the Yamadagawa Green Tourism Study Group, which consists of citizen volunteers; and as an agricultural subcommittee of the group, Nature Farming extension workers are in charge of farmland management and farming guidance to users. There are 65 sub farms that various individuals and groups can utilize. A farm helper for people who want to start farming in earnest and a universal farm that provides people with disabilities with an opportunity to experience farming. There are also users who aspire to gain experience and open up a large organic farm in the future. As a Satoyama Project, there are also walking paths that take advantage of the rich Nature.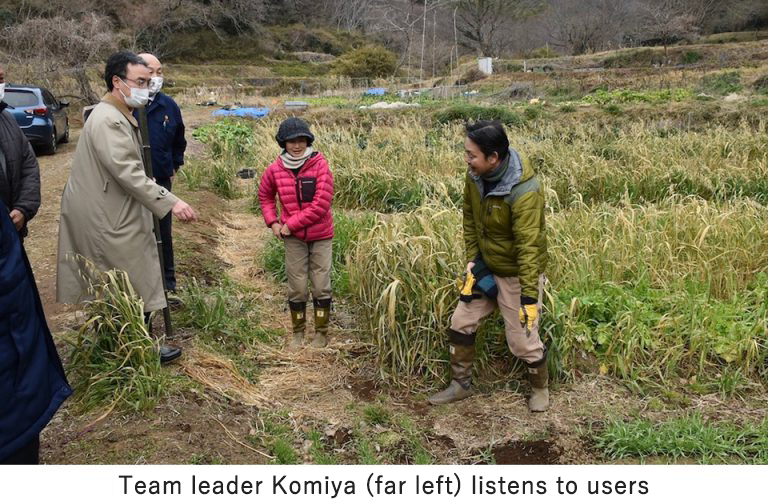 The Sano Experience Farm was opened in 2012 as part of the "Smart Wellness Mishima" concept, which aims to create a healthy and happy city. In a corner of a residential area, there are 85 sub farms for the public to use, five farms for groups and companies, and hands-on farms, where one can receive advice from resident Nature Farming extension workers. They contribute to community enrichment by holding fairs for agricultural products cultivated by users, organic farming festivals that sell vegetables, and harvest experience events for local children. Users have responded with comments such as "my children started eating bell peppers which they didn't like before" and/or "I started cooking without producing vegetable waste and now I can eat them."
Representative Hashimoto and Team Leader Komiya, along with Takeshi Toyooka, Mayor of Mishima, staff of the Agricultural Administration Division of the city, and people involved in the Mishima Promotion Association, were guided to the Yamadagawa Nature Village and Sano Experience Farm by Takemi Kono, a senior researcher at the Institute and Nature Farming extension member. Team leader Komiya said, "It is an excellent farm business that not only promotes organic farming but also plays a role in food education, and village and community development. I hope that these efforts will become an advanced model and spreads."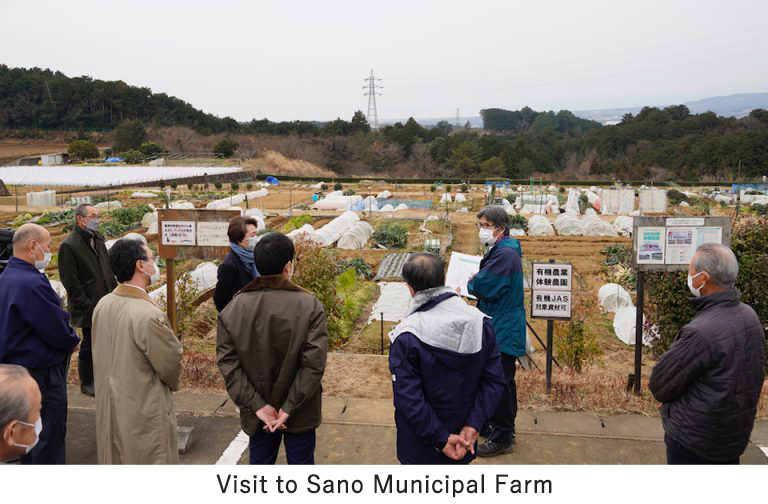 About 60 members—including Representative Hashimoto, members of the Diet elected by Shizuoka Prefecture, members of the prefectural assembly and city council, Mayor of Toyooka, and Nature Farming producers—participated in the "2022 New Year's Party" hosted by the Mishima Promotion Association prior to the inspection. Team Leader Komiya gave a lecture on the outline of "Green Food System Strategy."