Tags:Food and AgricultureTohoku
Fukushima City, Fukushima Prefecture
Nature Farming Method Tohoku Conference in Fukushima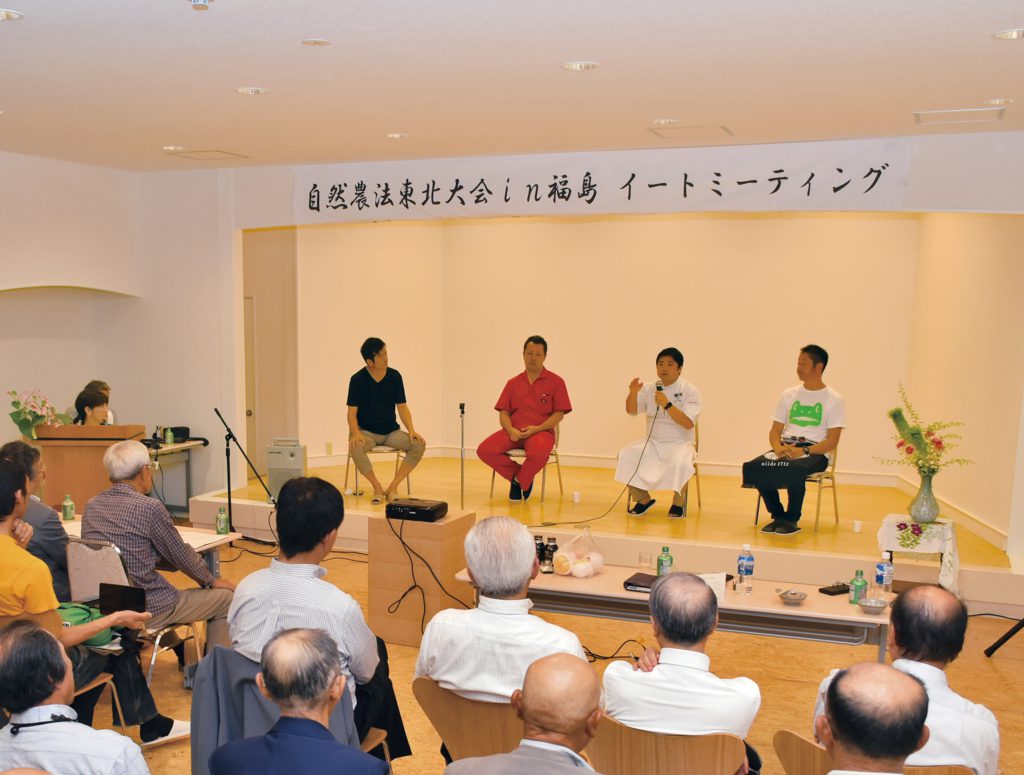 Thinking about the social value of agriculture ─ "Nature Farming Method Tohoku Conference in Fukushima Eat Meeting" (executive committee chairman, Satoshi Tanji, member of the Fukushima Prefectural Assembly) was held on September 16 and 17, 2019 with the theme of "Fukushima model that connects bonds." The event was held at a hotel in Fukushima City and about 220 producers, consumers, and government officials from all over the Tohoku region participated.
Mr. Hiroyuki Takahashi, CEO of Pocket Marche Co., Ltd., who emphasized the importance of connecting producers and consumers, gave the keynote speech. Other presenters were Mr. Nagatoshi Shiraishi of Shiraishi Farm, which uses the MOA Nature Farming Method in Iwaki City, Fukushima Prefecture; and Mr. Yasuhiko Niida, president of the Niidamoto family business, which manufactures natural sake using Nature Farming Method produced rice. Food samples were also provided.
Through the activities of the presenters, who have risen strongly from the Great East Japan Earthquake and the Fukushima Daiichi Nuclear Power Plant accident, participants learned the importance of bonding by the producers, consumers, and people to people through agriculture and Nature Farming in order to manifest the Healthy Mind and Body Community Enrichment.
Organizer / Nature Farming Method Tohoku Conference in Fukushima Executive Committee Cooperation / F's Kitchen Support / Fukushima Prefecture, Fukushima City, Fukushima Minposha, Fukushima Minyu Newspaper, Fukushima Living Shimbun, Fukushima TV, TV You Fukushima, Fukushima Central Television, NCV Fukushima Center