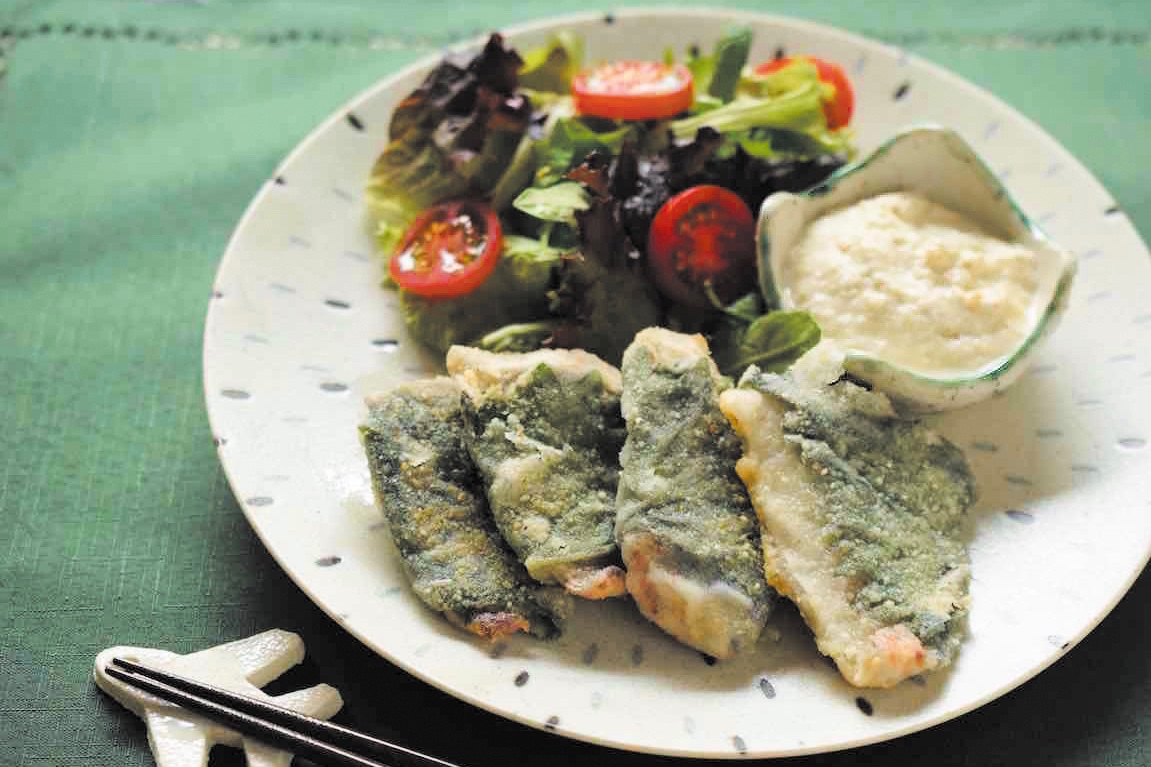 The freshness of the scent from the Shiso (perilla) matches the seasonal horse mackerel. Bake crispy with rice flour + grated cheese garment.

Healthy tofu mayonnaise dipping sauce made from soft tofu has a texture close to that of a regular dip. It adds richness to the dish, so it goes well with vegetables and/or fish. Serve with hot just grilled horse mackerel.
Pointers from Rie
Let's remove the small bones of the horse mackerel. Trace the fillet with your finger and pull out the bones that hit you by hand.
When wrapping shiso, add a small amount of a) to make it easier to stick.
Bake it in a little more oil for a crispy finish.
Tofu mayonnaise dipping sauce gradually becomes moist over time. It is recommended that you make as much as you eat each time and finish eating by the next day.
If you make tofu mayonnaise from soft tofu, it will have a richer taste. In that case, use a hand blender to make the mouth feel smooth.
Ingredients (for 4 people)
Horse mackerel
(3 fillet pieces)
8 pieces
(4 with tail pieces)
Shiso (large)
8
Salt
A little
Black pepper
A little
a) Rice flour
  Water
6 tablespoons
5 tablespoons
b) Grated cheese
  Rice flour
4 tablespoons
3 tablespoons
Canola oil
4-5 tablespoons
Petit tomatoes
4
Baby leaf
1 pack
Soft tofu
1/2 (150g)
c) Olive oil
  Vinegar
  Sugar
  Salt
  Ground sesame white

1 tablespoon
1 tablespoon
1 teaspoon
1/3 teaspoon
1 tablespoon
Nutritional value (for 1 person)
| | |
| --- | --- |
| Energy | 364kcal |
| Protein | 23.0g |
| Lipid | 23.0g |
| Carbohydrate | 19.5g |
| Salt equivalent | 2.0g |
Cooking
Cut the shiso in half. Cut the petit tomatoes into 1/4 slices. Wash baby leaf and keep it dry.
Make tofu mayonnaise. Warm the soft tofu in a microwave oven for 1 minute, wrap it in kitchen paper, and drain it.
Put 2 in a bowl and mix well with a whisk until it becomes a paste. After adding c) and mixing, cool in the refrigerator.
Mix a) and b) in separate vessels.
For horse mackerel, wipe off the water on the surface with kitchen paper and insert a knife diagonally to divide it into two equal parts. Season with salt and black pepper and wrap with 1 shiso.
Put canola oil in a frying pan and warm. After passing 5 through a) of 4, attach b) to both sides and slowly fry on medium heat until both sides are browned.
Place baby leaf, petit tomatoes, and drained 6 in a bowl and add 3.
MOA natural foods used
Umikko salt / organic black pepper / powder rice / rapeseed oil / Soft Tofu / Zuiun pure rice vinegar maroyaka / tea sugar


Green Market online shop