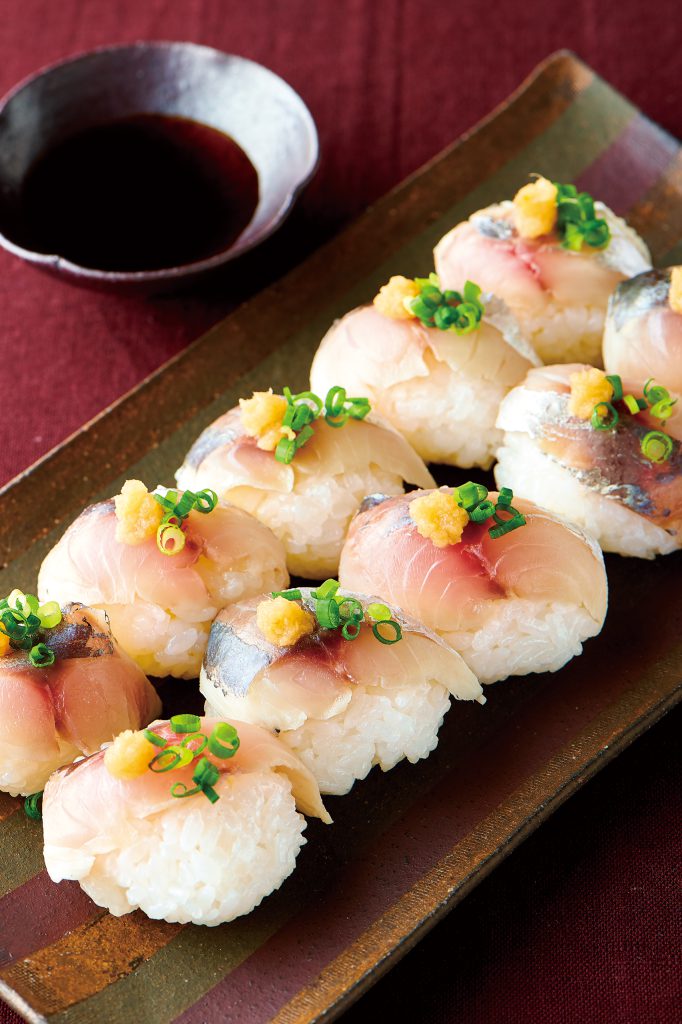 Pointers from Rie
Vinegar is able to soften protein, and may make the fish too soft. Therefore, before soaking the fish in vinegar, it is important to put salt on to tighten the meat.
By putting salt on before soaking in vinegar, it will increase the umami and flavor. It is a different taste from sashimi that can be enjoyed and its preservation is increased as well.
After putting on salt, get rid of the water to suppress the fishy smell.
Ingredients [30 pieces]
Horse mackerel [for sashimi]
2
Salt
1/2teaspoon
Rice vinegar
200cc
Rice
2cups
Sushi vinegar
60cc
Grated ginger
small amount
Green onion [cut into small pieces]
small amount
a)Dark soy sauce
  Rice vinegar
1tablespoon
1tablespoon
Cooking
Slice the horse mackerel horizontally into three pieces. Then, carefully take out the bones.
Put salt on both sides of 1) and leave for 10 minutes before wiping it with a paper towel.
Put 2) into a pan and pour vinegar in. After 5 minutes, turn them to the other side and leave them for another 5 to 10 minutes.
Take 3) out and pat both sides with a paper towel, then take off the skin. Cut it at a 45 degree angle and put it in the refrigerator.
Put sushi vinegar into the Rice that was cooked with a little amount of water (little less than 2 cups), then mix while cooling it down with a fan. Spread it evenly and put a dish cloth on top to further cool down.
Make 5) into 30 pieces, then after wetting your hands in vinegar water, use your hands to round them out.
Place 4) on 6) and use a wrap to cover it and make it a round shape. Make 30 pieces.
Place 7) on a plate and garnish with grated ginger and green onion. You may eat it as is or also use a) as a dipping sauce.
MOA Products Used
Salt [Umikko], Zuiun rice vinegar Maroyaka, premium white rice, sushi vinegar, Zuiun dark soy sauce.


This recipe was published in the magazine "Paradise" No. 78 (Winter 2020).