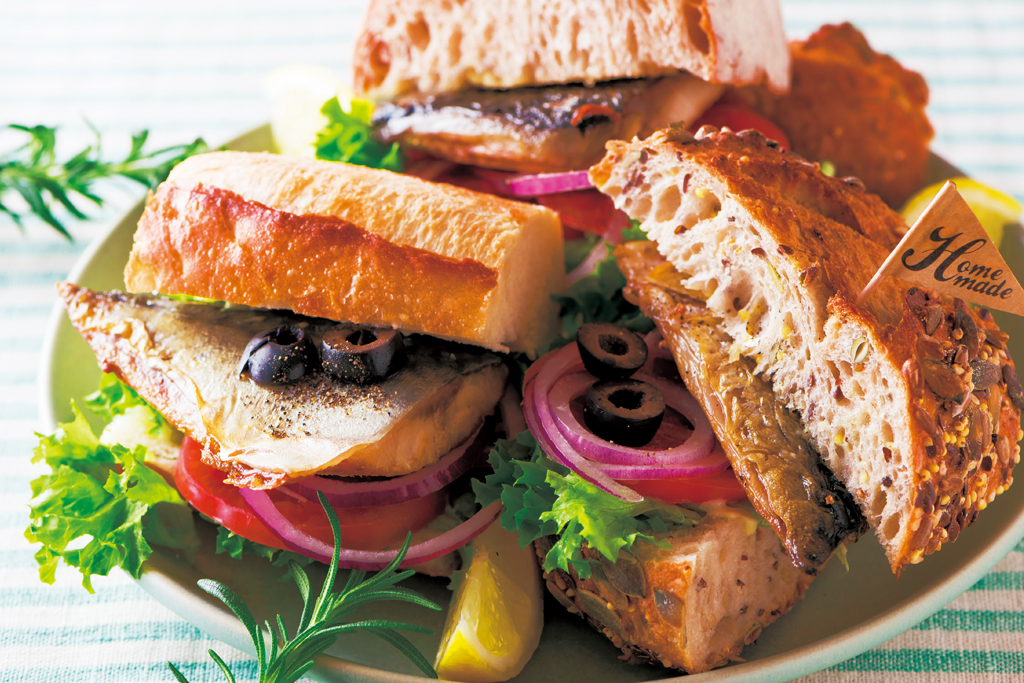 Pointers from Rie
To change the mackerel into one that matches the bread, and one that is safe to bite into, the first point is to carefully take out the bones.
Furthermore, properly wipe the moisture off the surface of the mackerel to get rid of the bad smell.
Bread is not limited to batard bread, but any that is not sweet or does not have a lot of butter will match well with the mackerel.
Ingredients [4 people]
Salted mackerel fillet
4
Batard
[type of French bread]
1
Mayonnaise
4tablespoons
Pleated lettuce
4
Red onion
small amount
Tomato
1
Lemon
1/2
Olive oil
1tablespoons
Rosemary (fresh)
1
Sliced olives in water
12
Black pepper
small amount
Cooking
Cut the batard in four, and cut it horizontally. Then, put mayonnaise on where you cut the batard.
Take as much of the bones out of the mackerel.
Wipe the moisture off of the lettuce and tear it into bite size pieces. Cut the onion into thin slices, remove the stem of the tomato before slicing it into rounds of 8, and cut the lemon into wedges.
Put olive oil and rosemary into a frying pan and put on medium heat. Then, line up the mackerel and fry until both sides are brown.
On the bottom batard, put lettuce, tomato, and onion in that order. Then, put on 4) and olives and shake on black pepper for flavor before putting a batard on top. Before eating, squeeze lemon on the mackerel.
MOA Products Used
Salted mackerel fillet [frozen], mayonnaise, organic black pepper.


This recipe was published in the magazine "Paradise" No. 76 (Summer 2019).