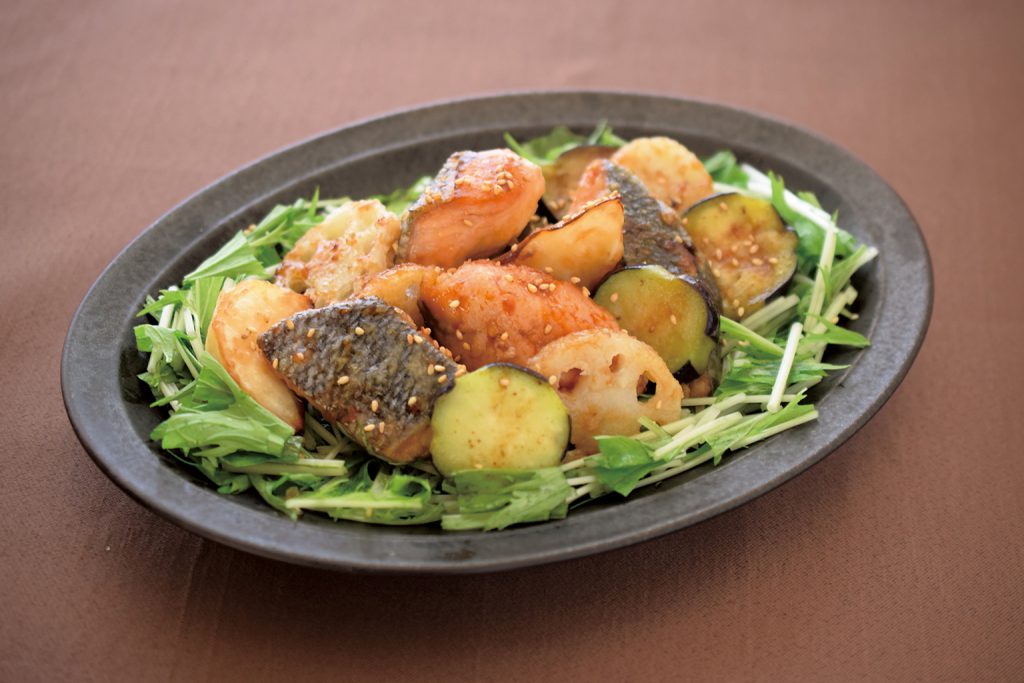 Pointers from Rie
Autumn salmon is low in calories, yet very nutritional. The meat is firm and is easy to cook, so there are many ways to enjoy cooking this salmon.
Try this recipe with mackerel or Pacific saury as well.
The vitamin D in salmon is effective in preventing the common cold. This meal is recommended for the beginning of autumn when the air becomes dry.
Ingredients [4 people]
Raw salmon
4pieces
Salt
small amount
Eggplants
2
Turnip
1
Lotus root
5、6cm
Mizuna
1/4 of a bunch
Starch
suitable amount
Salad oil
suitable amount
a)Dark soy sauce
  Sugar
  Sake
  Mirin
2tablespoons
2tablespoons
2tablespoons
2tablespoons
Toasted sesame seeds
suitable amount
Cooking
Wipe the moisture off the surface of the raw salmon and cut each piece into thirds, then sprinkle salt on top.
Peel the skin of the eggplant to have a striped design and then slice it into rounds of 1 cm. Peel the turnip and radially cut it into 8 pieces. Peel the lotus root and slice it into rounds of 1 cm. Cut mizuna to widths of 3 cm.
Heat up a frying pan with a lot of salad oil. Put in the eggplant and once one side is browned, flip it on its other side to cook before taking them out. Then, cook both sides of the turnip as well before taking them out.
Sprinkle a bit of starch on the lotus roots, and add more salad oil into the frying pan before putting lotus roots in. Cook the lotus roots on medium heat until the surface becomes crispy before take them out.
Sprinkle starch on 1) and put it in the previously used frying pan and cook them well before taking them out.
Use a paper towel to wipe and clean the dirty frying pan. Then, on medium heat, put a) in, then mix and boil until it simmers and becomes thick.
Add 3), 4), 5) and mix carefully so that the salmon does not break apart.
Put mizuna on a plate and place the salmon on top, then sprinkle with toasted sesame seeds.
MOA Products Used
Salmon piece [unsalted, frozen], starch, corn salad oil, Zuiun dark soy sauce, tea sugar, organic toasted white sesame seeds.


This recipe was published in the magazine "Paradise" No. 81 (Autumn 2020).