Tags:SpringVegatableSeafoodRiceflour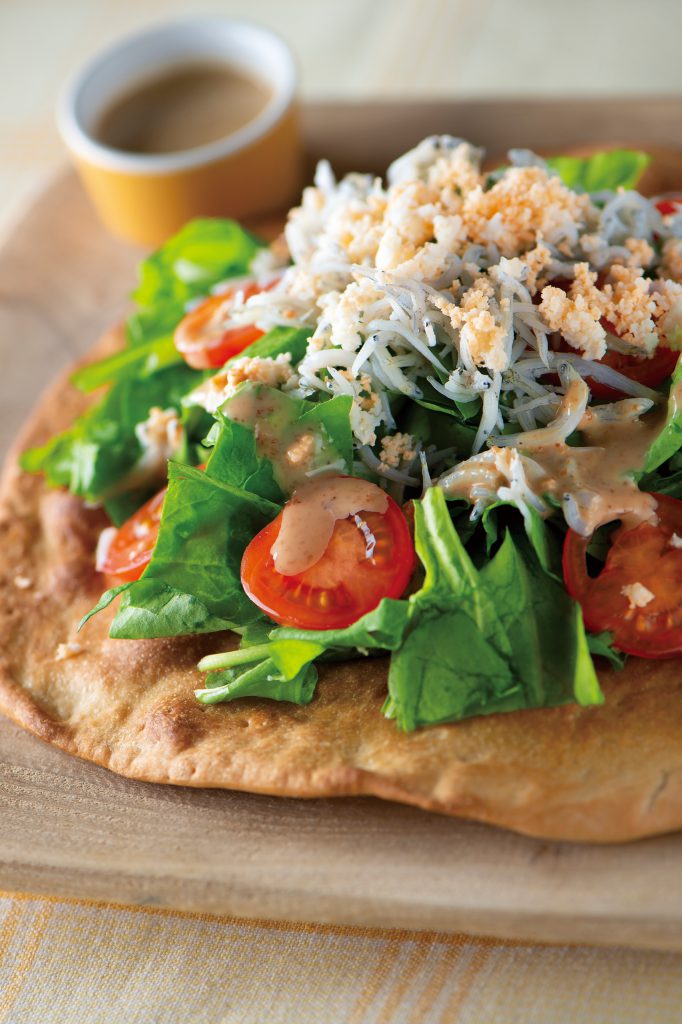 Pointers from Rie
The temperature of different ovens varies. When it is not cooking, add a minute at a time.
After putting on tomato sauce, it is OK to put on the ingredients and cheese before baking.
Brown rice flour is firmer than wheat flour and will make a fragrant pizza.
You will get a crisp texture if you apply olive oil on the surface of your pizza.
Ingredients [4 pieces]
Instant dry yeast
3g
Warm water
100ml
a)Bread flour
  Brown rice flour
  Sugar
  Salt
150g
20g
2teaspoons
1/2teaspoons
Olive oil
1teaspoons
Olive oil (apply to surface of pizza)
4teaspoons
Arugula
120g
Petite tomatoes
8
Boiled egg
1
Young sardines
80g
Sesame dressing
suitable amount
Cooking
Dissolve the instant dry yeast in half of the warm water.
Put a) in a bowl and mix well. Make a dent in the middle of the mixture and add 1), the remaining warm water, and olive oil; then knead until it bunches up.
Put the dough on the counter and knead for about 10 minutes until the dough is stretchy and the surface is smooth. Then, divide the dough into four pieces, round them out, put them on a pan smooth side up and leaving space in between. Wrap it in a plastic wrap and let it rise for 40-50 minutes at room temperature.
Sprinkle flour on a clean surface and rolling pin. Roll out the four pieces of dough and punch them down. Then, spin the dough at 90 degrees until the diameter of the dough is 18 cm and the thickness is 2, 3 mm.
Put your dough on a parchment paper that is on a pan and use a fork to poke holes in several different areas of the dough. Then, use a brush to apply olive oil on the dough. Put it in the oven, preheated at 230 Celsius degrees, for 8 minutes.
After it has been baked, take it out, cut it into four pieces, and put it on a plate. [It is easier to cut out equal sized pieces if you use a kitchen scissors.]
Cut the arugula into 3 cm sizes, and slice the petite tomato into rounds. Strain the boiled egg.
Once you nicely arrange the items in 7) and the young sardines, drizzle on the sesame dressing on 6). Your pizza is done.
MOA Products Used
Heian bread flour, brown rice flour, mineral sugar mild, salt [Umikko], free-range fertilized egg, sesame dressing


This recipe was published in the magazine "Paradise" No. 79 (Spring 2020).