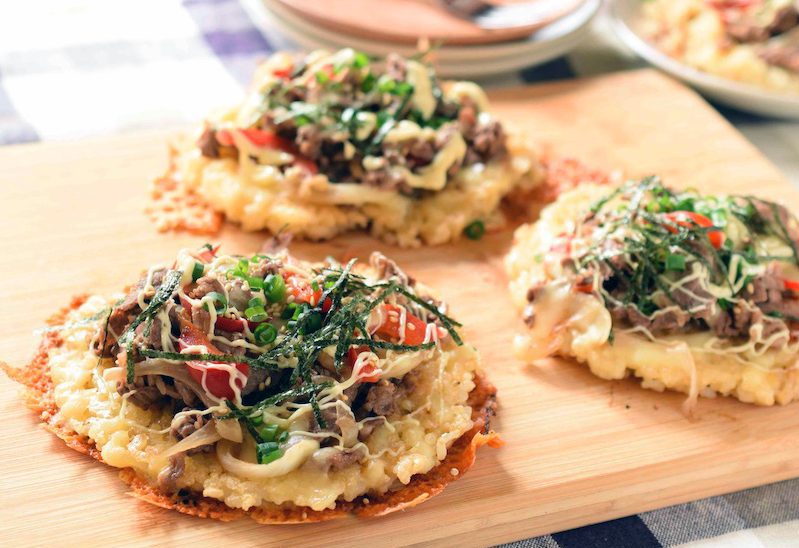 It's full of volume and playfulness! It can be easily made with a frying pan. Why not make it together with others and have fun eating it for lunch on holidays.

Plenty of Yakiniku (grilled meat) on crispy baked rice dough. If you add a Japanese taste by adding Nori seaweed and sesame, it will be a taste that everyone loves.
Pointers from Rie
To make it easier for the rice to stick together, use freshly cooked or heated cold rice.
If you use milled rice or brown rice, the aroma of the rice dough will increase and the nutrients of the germ will be nourished. If you use only brown rice, the dough will crumble more easily, so we recommend about half brown and half white rice.
The dough is made into 4 pieces so that it can be easily turned over, but you can also make one large piece, bake it, cut it into pieces, and eat it.
If you sprinkle the juice that comes out when the meat is grilling on the dough and bake it, it will be fragrant and the taste will be strong.
Sprinkle the cheese slightly outside the dough and the edges will be crispy.
Ingredients (for 4 people)
a) Warm rice
 (2 large servings of rice bowl)
  Egg
  Potato starch
  Salt
400g
 
1
2 tablespoons
1 teaspoon
Thinly sliced beef brisket
200g
Onion
1/4
Paprika
1/4
Sesame oil (for stir-fried ingredients)
1 teaspoon
Yakiniku sauce
2 tablespoons
Sesame oil (for dough)
1 tablespoon
Pizza cheese
60g
White sesame seeds
1 teaspoon
Chopped nori
Appropriate amount
Small green onion
Appropriate amount
Mayonnaise
1 tablespoon
Nutritional value (for 1 person)
| | |
| --- | --- |
| Energy | 524kcal |
| Protein | 15.5g |
| Lipid | 33.4g |
| Carbohydrate | 45.7g |
| Salt equivalent | 2.7g |
Cooking
Cut the sliced beef brisket into pieces that are easy to eat. Slice the onion and remove the seeds from the paprika and slice it.
Make rice dough. Dissolve the egg of a) in a bowl, add other ingredients and mix, then divide into 4 equal parts.
Put sesame oil for frying ingredients in a frying pan and warm to fry the onions and paprika. When the onions are clear, add beef and fry quickly, then add Yakiniku sauce and stir. Take out whole thing with the soup in a bowl.
Clean the frying pan and spread 2 one by one in a circle and flat. When it becomes brown over medium heat, sprinkle sesame oil for the dough along the edge of the frying pan. After turning it over, press it from above with a spatula to shape it, and sprinkle the juice from step 3 on the dough.
Put 3 on 4. Sprinkle the cheese over the edges of the dough and place the rest on the ingredients. Cover and bake until the cheese melts.
Place it on a plate, sprinkle with sesame seeds, chopped nori, and small green onions, and sprinkle with mayonnaise if you like.
MOA natural foods used
Almost brown rice / Taste premium (white rice) / Free range fertilized egg / potato starch / Umikko salt / Sliced beef briskets (frozen) / Sesame oil / Yakiniku sauce / Organic white sesame seeds / Mayonnaise


Green Market online shop