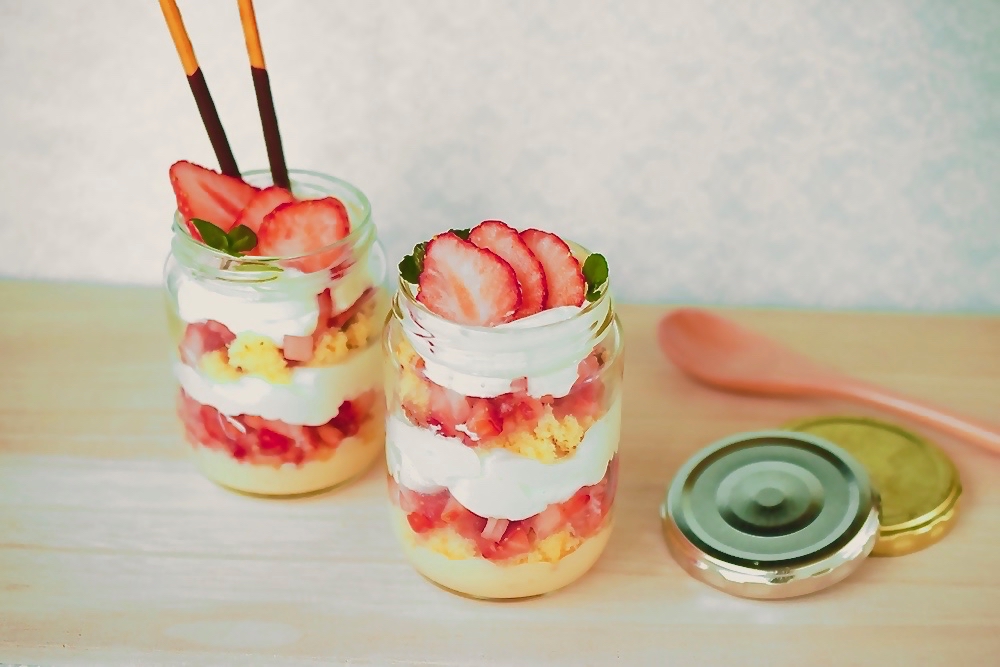 The origin of the word "trifle" originated in England and means "boring." It's because you can make it with a piece of sponge cake and a small amount of fruit.

It's as easy as placing the cream and ingredients in layers, but when you put it in a jar, the cross section is beautiful and it's a fashionable dessert.
Pointers from Rie
If you use rice flour for the custard cream, it will be less likely to get lumpy than wheat flour and will have a smooth finish.
When custard cream comes in contact with air, it forms a film and the surface hardens. When it cools, keep the plastic wrap in close contact to the surface./li>
The juice from the chopped strawberries becomes syrupy and the castella is moist. Let's add the juice together.
You can arrange it by combining other fruits such as bananas, kiwis, oranges, and blueberries, or decorating with your favorite sweets such as cookies.
A jar with a wide mouth is recommended because it is easier to decorate. The cream goes on clean with a piping bag. It is easier to make it in a large bowl such as a glass bowl and set it aside.
Ingredients(for about 4 people)
Strawberries
15 to 20
Lemon juice
1 teaspoon
Sugar
1 teaspoon
Castella
2 pieces (about 80g)
a) Egg yolk
  Rice flour
  Sugar
  Milk
1
2 teaspoon
2 tablespoon
100ml
Butter
5g
b) Fresh cream
  Sugar
200ml
1 tablespoon
Mint
A little
Nutritional value (for 1 person)
| | |
| --- | --- |
| Energy | 362kcal |
| Protein | 4.6g |
| Lipid | 25.1g |
| Carbohydrate | 34.1g |
| Salt equivalent | 0.1g |
Cooking
Remove the calyx from the strawberries and set aside 4 for decoration.
Finely chop the remaining strawberries into 5mm square pieces, put them in a bowl, and sprinkle with lemon juice and sugar to mix them.
Finely loosen the castella.
Make the custard cream. Put a) in a heat-resistant bowl, mix with a whisk, wrap, and heat in a 600W microwave oven for 2 minutes. Take it out, mix it well, wrap it again and heat it for 1 minute. Add butter and mix with a whisk to dissolve. Put the wrap in close contact with the cream and remove from heat.
Make the whipped cream. Put b) in the bowl. Put ice water in a slightly larger container, apply the bottom of the bowl to cool it, and whisk the cream. Put it in a piping bag and keep it in the refrigerator.
Prepare 4 transparent jars. Set aside a little custard cream for decoration, divide the rest into 4 equal parts and put in the bottom of the jars. Next, in the order of 3 and 2, put half of each in 4 jars.
Squeeze the cream into 6. Layer the other half in the order of 3 and 2 and squeeze the cream again.
Cut 1 into the desired size and top with custard cream to decorate with mint.