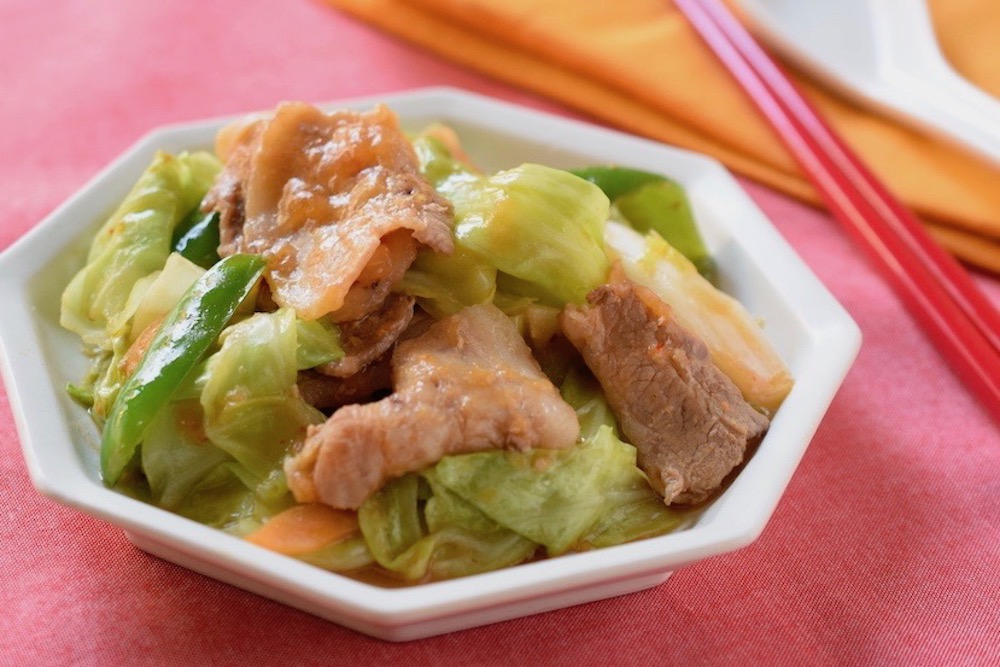 The sweet spring cabbage and the umami of pork belly go great together! Change the order of stir-fry to make the vegetables crispy.

Slowly aged and flavorful miso is also useful for Chinese-style seasoning when used with garlic and ginger. One can eat plenty of rice with it.
Pointers from Rie
If you stir-fry the cabbage and other vegetables first and take them out, the amount of dehydration due to the osmotic pressure of the salt in the seasoning will decrease. Thus, the texture will be crisp. The point is not to spend time after adding the seasonings.
If you mix the seasoning and water-soluble potato starch in advance, the taste and concentration will be uniform and one can prevent overheating while adding.
If you mix the seasoning with the pork belly first, the umami will melt into the whole and give it a rich taste.
Ingredients(for about 4 people)
Cabbage
1/4 ball (300g)
Pork belly slice
200g
Carrot
1/4
Green onion
1/2
Peppers
2
Canola oil
2 teaspoons
a) Grated garlic
  Ginger
  Doubanjiang (if you like)
  Miso
  Sugar
  Dark soy sauce
  Water
1 teaspoons
1 teaspoons
1 teaspoons
2 tablespoon
1 tablespoon
1 tablespoon
2 tablespoon
b) Potato starch
  Water
2 teaspoons
2 tablespoon
Nutritional value (for 1 person)
| | |
| --- | --- |
| Energy | 283kcal |
| Protein | 9.4g |
| Lipid | 22.6g |
| Carbohydrate | 13.9g |
| Salt equivalent | 2.1g |
Cookin
Divide the cabbage into cores and leaves. Cut the core into thin slices and cut the leaves into large pieces. Remove the pepper stem and seeds. Peppers are cut into small pieces, carrots are cut into strips, and green onions are cut into diagonal pieces.
Cut the pork belly into 5 cm widths.
Put a) and b) in small bowls and mix them.
Heat the oil in a frying pan and fry the carrots, peppers and cabbage cores. When everything in the pan is coated with oil, add the green onions and cabbage leaves and fry.
When the cabbage is a little less bulky, remove and place it on a plate or in a bowl.
Spread the pork belly in a frying pan and fry.
Add 3a) and entangle with pork belly while heating.
Drain the water from 5 and add, and fry quickly.
After thickening in 3b), pour it into a bowl.
MOA Products Used
Shirokane pork rose slice (frozen), rapeseed oil, Zuiun miso, tea sugar, Zuiun dark soy sauce and potato starch


Green Market online shop