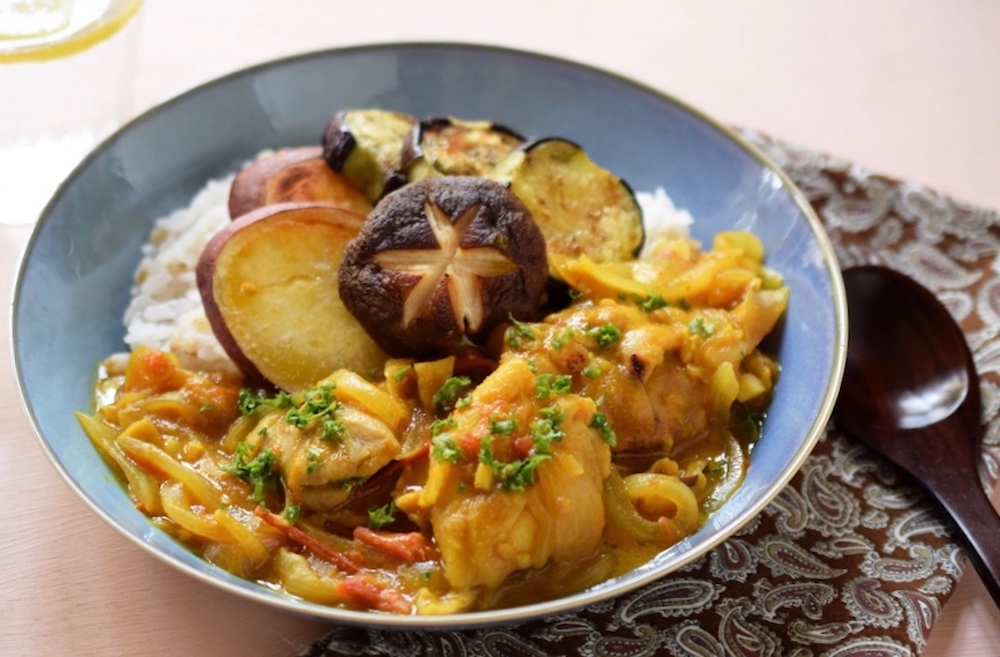 Chili pepper, which is a spicy ingredient, is not added, and instead salt koji is added to add umami and mellowness.

A sweet, yet authentic, spicy curry, which children and those who don't like spicy food, can also enjoy.
Pointers from Rie
Spices don't like moisture, so don't shake them directly from the jar over the steam. Place them on a separate plate and add.
The spices that make up the curry are turmeric, cumin, and coriander. Add 1/2 teaspoon of chili pepper for added spiciness.
Turmeric is expected to have anti-inflammatory effects. Cumin is expected to be anti-glycation and attention is being paid to improving the intestinal environment and anti-aging effects.
Adding glutinous barley to the rice gives it extra texture.
Ingredients (for 4 people)
Chicken thighs
2
Salt koji
3 tablespoons
a)Onions (thinly sliced)
  Garlic (chopped)
  Ginger (chopped)
2
1 clove
1 piece
Rapeseed oil
1 tablespoon
Tomato, diced
1(200g)
b)Turmeric
  Cumin (powder)
  Coriander (powder)
  Rice flour
1 teaspoon
1 teaspoon
2 teaspoon
1 tablespoon
Water
200ml
Salt
1/2 teaspoon
Rice
2 cups
Glutinous barley
50g
Eggplant
1
Sweet potato
1
Shiitake mushrooms
4
Parsley (chopped)
a little
Nutritional value (per serving)
| | |
| --- | --- |
| Energy | 761kcal |
| protein | 29.0g |
| Fat | 28.2g |
| Carbohydrate | 105.6g |
| Salt equivalent | 3.1g |
Cooking
Cut the chicken thighs into large bite-sized pieces, and sprinkle with salt koji.
Put the washed rice and glutinous barley in water for 1 hour before cooking it in a rice cooker. Additional 100ml water is needed for added glutinous barley.
Peel the eggplant to make vertical stripes and cut into 1cm round slices. Wrap the sweet potato in plastic wrap, heat in the microwave for 3 minutes, then, cut into 1cm slices. Cut off the stone of the shiitake mushrooms.
Warm the rapeseed oil in a frying pan, add a) and two pinches of salt, and fry over high heat until light brown.
Add the tomatoes to 4. Fry until the moisture is reduced and move to the edge of the frying pan; put 1 in the empty space and lightly brown.
Mix 5, add b), and fry until it smells good. Add water, cover and simmer for 10 minutes, then season with salt.
In another frying pan, heat a large amount of rapeseed oil, grill both sides of 3, and sprinkle with a pinch of salt.
Put 2 on a plate, add 6, put 7 on top, and sprinkle with parsley.
【How to make salt koji】
Mix 200g of dried rice koji, 60g of salt and 250-300ml of water and put in a warmth resistant bag.
Put 3 sheets of kitchen paper in the inner pot of the rice cooker, and add hot water and cold water at a ratio of 1:1. Add 1, put a plate on it so that it does not float, leave the rice cooker lid open and keep warm for 6 hours. Then using a mixer, make it into a paste. Keep in the refrigerator for preservation after putting it in a clean container.
MOA natural foods used
Chicken thigh (frozen) / Dried rice koji / Umikko salt/ Rapeseed oil / Powdered rice / Ajiwai Premium (white rice) / glutinous barley


Green Market Online Shop