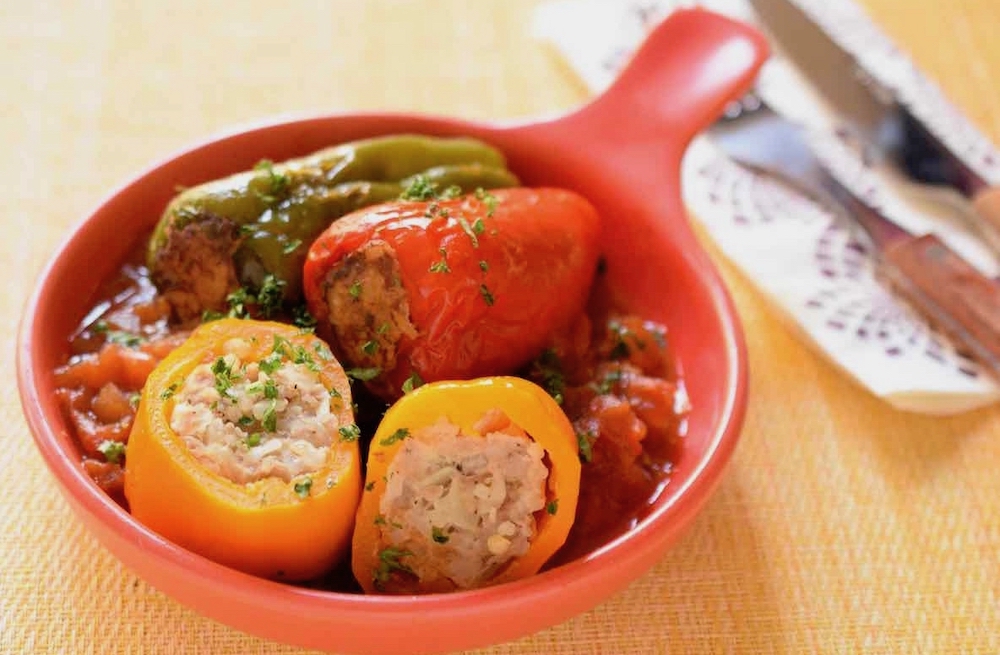 Take a big bite of the whole bell pepper! By adding rice to the meatballs, the texture will increase and the greasy texture will be cut to half. It is also recommended as the meal prep.

Bell peppers are rich in vitamin C and beta-carotene, which protect the skin. Replenish plenty and take care of summer UV rays from the inside of your body.
Pointers from Rie
Colored bell peppers make the appearance vivid. The bitterness of bell peppers has the effect of smoothing the blood. Use whichever colorful pepper you prefer.
Put meat patties in the bell peppers little by little and push it with your finger so that the meat patties go all the way to the tip of the bell pepper.
Using whole peppers means you don't have to worry about the meat patties falling off. If you bake the meat on the top of the pepper first, it will serve as a lid.
Before adding the tomatoes, quickly wipe off the burnt oil and oil from the frying pan with kitchen paper to remove the excess oil and bitterness and make the sauce more colorful.
Ingredients (for 4 people)
Bell peppers
12
Ground pork
200g
a)Salt
  Black pepper
  Nutmeg powder
2/3 teaspoon
a little
1/6 teaspoon
Egg
1
Rice
150g (1 bowl)
Onion
1/2
Tomato
1
Rapeseed oil
1 tablespoon
b)Oyster sauce
  Dark soy sauce
  Ketchup
  Sugar
  Water
1 tablespoon
1 tablespoon
1 tablespoon
1 tablespoon
3 tablespoon
Parsley (chopped)
a little
Nutritional value (per serving)
| | |
| --- | --- |
| Energy | 263kcal |
| Protein | 13.4g |
| Fat | 13.3g |
| Carbs | 26.3g |
| Salt equivalent | 2.4g |
Cooking
Chop the onion and spread it on an insulated dish. Cover with plastic wrap and heat (600w) in a microwave oven for 1 minute. Remove wrap to reduce heat.
Poke a small spoon into the outside of the stalk about 5 mm from the bell pepper and scoop out the stalk and seeds.
Finely chop the tomatoes.
Put ground pork and a) in a bowl and knead well. When the mixture becomes sticky, add the egg and mix until it becomes thick enough to sense plumpness with your finger tip.
Add the rice and 1 to 4, mix until evenly mixed, and stuff the bell peppers with the meat patties.
Pour rapeseed oil into a frying pan and heat. Arrange them with the side where you can see the meat patties from step 5 facing down, and add a brown color. When the meat on the surface is cooked, lay the bell peppers on their side and brown them all over.
Put 3 in the gap of the frying pan and let it cook while crushing it lightly. Add b), mix with tomatoes, cover and simmer for about 10 minutes.
Place in a bowl and sprinkle with parsley.
MOA natural foods used
Ground pork (frozen) / Umikko salt, / organic black pepper / free-range fertilized eggs / brown rice / rapeseed oil / Zuiun soy sauce Dark / ketchup / tea sugar


Green Market Online Shop