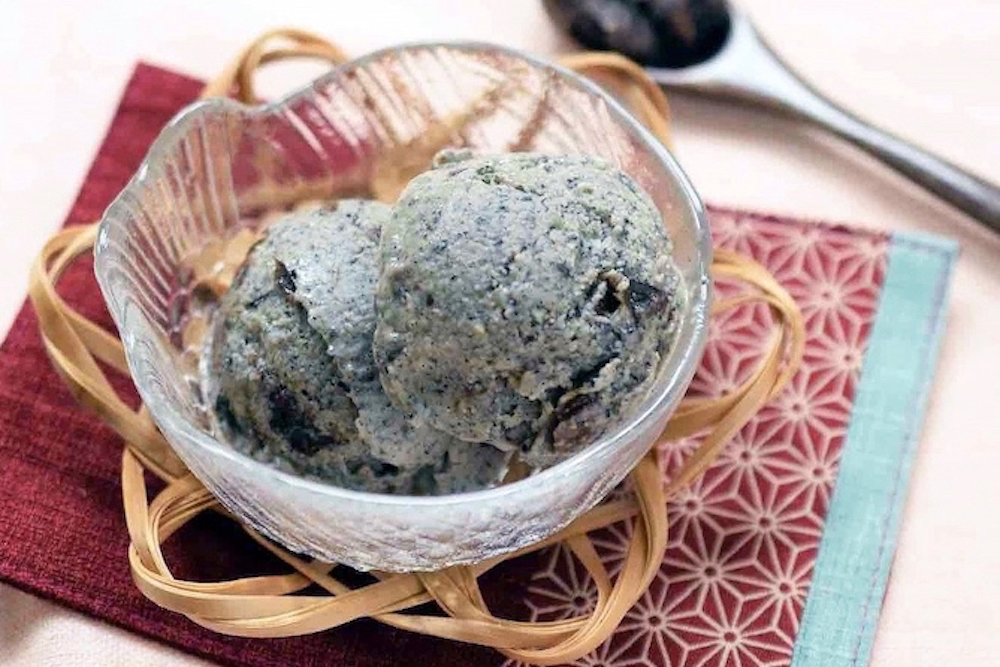 The natural sweetness of amazake [a fermented non-alcoholic rice drink] and the aroma of sesame are accented with amanatto [traditional Japanese frosted bean sweets] made from black beans. Concentrated amazake, which has a rich flavor and is suitable for making sweets and cooking, can be made in a rice cooker without a fermenter.

It is a simple, healthy snack that you just mix and freeze. How about some nutrition on a hot day?
Pointers from Rie
If you use liquid amazake, it will taste like sherbet; so if you are using a commercially available product, choose a concentrated type.
You can also add black sugar syrup or honey if you like.
Amazake can be stored frozen. I also recommend adding it to yogurt or mixing it with fruit or soy milk in a blender to make a slightly sweet drink. When added to stews instead of sugar, it gives a gentle sweetness.
Ingredients (for 4 people)
a) Amazake (concentrated type)
  White sesame paste
  Ground black sesame seeds
  Salt
200g
2 tablespoons
4 tablespoons
Two pinches
Silken tofu
200g
Black bean amanatto
30g
Nutritional value (for 1 person)
| | |
| --- | --- |
| Energy | 193kcal |
| Protein | 7.4g |
| Fat | 11.5g |
| Carbohydrate | 17.6g |
| Salt equivalent | 0.2g |
Cooking
Wrap the silken tofu in kitchen paper, place on a plate, warm in a 600W microwave for 2 minutes, and drain.
2Coarsely chop the black soybeans and amanatto.
Put a) and 1 into a food processor or blender and mix well until smooth.
Put 3 into a zippered food storage bag and add 2. Smooth it evenly, flatten it, close the zipper, and put it in the freezer.
While freezing for about 3 hours, mix by kneading from the outside twice. When ready to eat, leave at room temperature until slightly soft, then knead again until smooth, then serve in a bowl.
【How to make concentrated amazake (easy to make amount)】
Add 200ml of water to 1/2 cup (75g) of rice and cook. When the rice is cooked, remove the inner pot and take out warmth (always keep the temperature below 60℃ so that the fermentation progresses and becomes sweet).
Return the inner pot to the rice cooker; add 100g of dried rice koji and 100ml of water, and mix.
Set the rice cooker to "keep warm" and keep the rice warm for 6 to 8 hours by covering with a cloth and leaving the lid open. Stir occasionally; and if it tastes sweet, it's done.
MOA natural foods products used
Zuisho Kinugoshi Tofu/Salt Umikko/Squeezed Black Soybeans/Ajiwai Premium (White Rice)/Dried Rice Koji


Green Market Online Shop