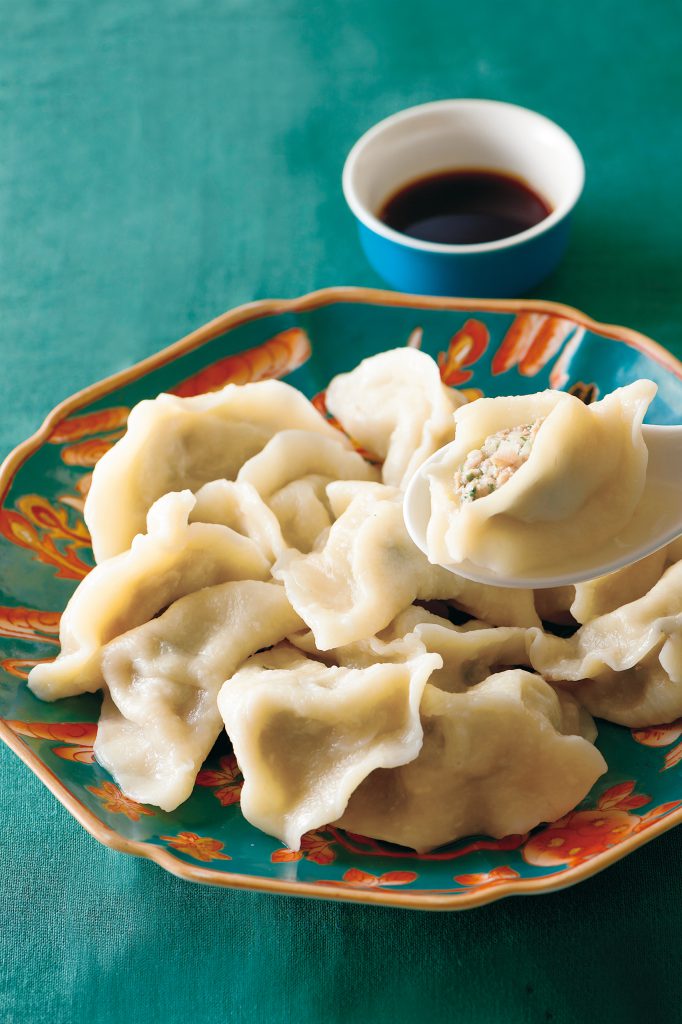 Pointers from Rie
When you add oil to wheat flour, you can suppress the elasticity in the dumpling skin. This way, even a beginner can easily stretch the dumpling skin and it will go down the throat smoothly.
Use the rolling pin to stretch the skin outward from your body and turn the skin and repeat stretching it outward. By stretching the dumpling skin in the same direction, the middle of the skin will remain thick.
Separate the filling into the amount of dumplings you want to make beforehand to have equal sized dumplings.
Ingredients [30 pieces]
a)Bread flour
  Wheat flour
  Salt
150g
150g
1teaspoon
Water
150cc
Salad oil
2teaspoon
b)Green onion
  Celery [stalk]
  Perilla
10cm
10cm
20枚
Ground pork
200g
c)Chinese stock powder
  Grated ginger
  Sugar
  Dark soy sauce
  Salt
  Sesame oil
1teaspoon
1piece
1teaspoon
2teaspoon
1/3teaspoon
1tablespoons
d)Vinegar
  Dark soy sauce
  Chili oil
3tablespoons
3tablespoons
preferred amount
Cooking
After mixing a), add water and knead until it is a dough. Add salad oil and knead until it has a glaze, then wrap it in plastic wrap and put it in the refrigerator for about an hour.
Chop b) into small pieces.
Put the ground pork and c) into a bowl and mix with your fingers. Add 2) and mix until it is all even.
Roll 1) into a rod-shape then cut it into 30 pieces.
Round out the pieces from 4) and flatten them with the palm of your hands. Then, use a rolling pin to stretch the skin to have the outer edges to be thinner than the middle and to have a diameter of about 10 cm.
Place 3) on the center of 5) and wrap it so the filling does not come out.
Boil 6) in plenty of hot water. When it floats, boil for two more minutes before removing the dumplings with a strainer. Place the dumplings on a plate and serve with d).
MOA Products Used
Heian bread flour, Heian wheat flour, salt [Umikko], corn salad oil, Chinese stock powder, mineral sugar mild, Zuiun dark soy sauce, sesame oil, Zuiun pure rice vinegar [Maroyaka].


This recipe was published in the magazine "Paradise" No. 76 (Summer 2019).