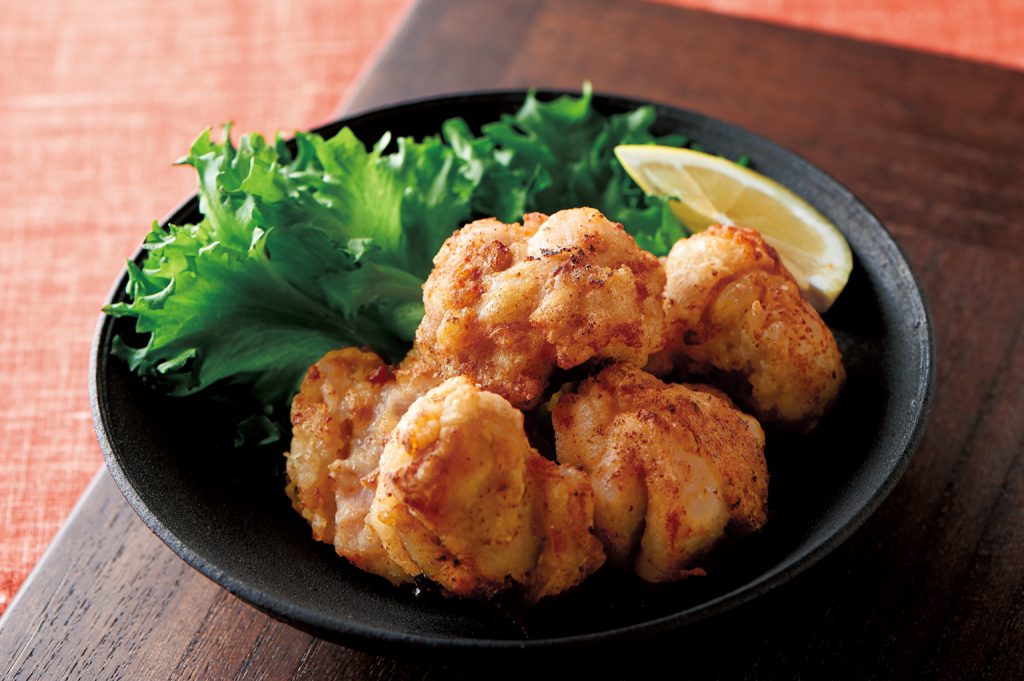 Pointers from Rie
Rice flour absorbs less oil than flour, so it is healthier and the texture is lighter. Even when it is cooled, it is not sticky, so it is suitable for lunch boxes.
Rice flour does not stick well to ingredients, so be sure to thoroughly cover them.
It is difficult to get the fried color, but once you see its color, it is a good indicator that it is ready because it means the inside is also fully cooked.
Ingredients [4 people]
a)Water
  Sugar
  Salt
  Grated ginger
200cc
2teaspoons
2teaspoons
2pieces
Seaweed dashi
10 cm size cube
Chicken thighs
2
Rice flour
suitable amount
Oil (for frying)
suitable amount
Lemon [wedges]
suitable amount
Cooking
Put a) in a container and mix. Add the seaweed dashi and soak to make the dipping sauce.
Cut the chicken thighs into pieces of 30 g, put it in 1), wrap the top with a plastic wrap and leave it for 6-12 hours.
Once you take out the chicken thighs and remove the moisture, sprinkle rice flour on it. Make the chicken into round shapes by squeezing and stretching.
Put oil into a frying pot and heat until the temperature reaches 170 Celsius degrees. Put 3) in and fry it by continuing to turn it over. Once the chicken has a light brown color, take it out and place on a plate; drain the oil. Garnish with lemon wedges.
teaspoons
Tea sugar, salt [Umikko], Hidaka seaweed dashi, Toriichiban chicken thigh, powder rice, corn salad oil.


This recipe was published in the magazine "Paradise" No. 78 (Autumn 2019).