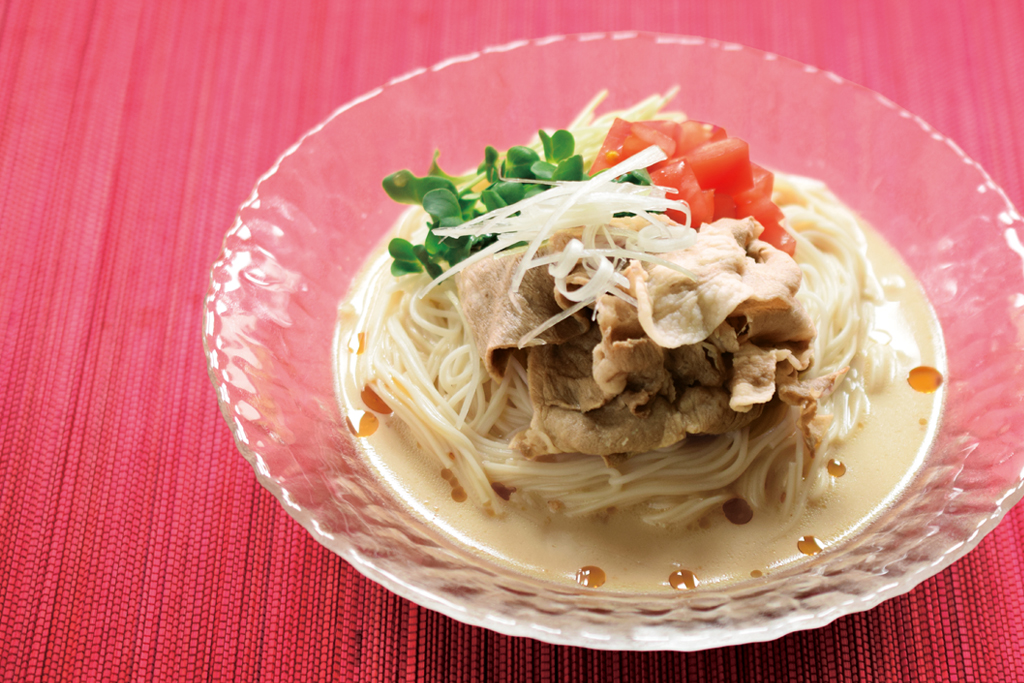 Pointers from Rie
By putting pork into boiling hot water or ice cold water, it will become hard; so when cooking, be cautious of the temperature.
Just shaking the strainer with the somen will result in a lot of water remaining which will dilute the sauce. Press down from the top of the somen to get rid of all the water.
Ingredients [4 people]
Tomato
1
White radish sprouts
1pack
Green onion
10㎝
a)Bonito soy sauce
  Soymilk
  Sesame oil
  Ground white sesame
100cc
600cc
2tablespoons
4tablespoons
Pork [for shabu shabu]
200g
Somen noodle
8bundles
Chili oil
suitable amount
Cooking
Dice the tomatoes. Remove the roots of the white radish sprouts. Cut the green onions vertically into long strips and soak in water; then, use a paper towel to remove the moisture.
Put a) in a bowl and mix; then, put it in the refrigerator to cool.
Warm up water in a pot and, before it boils, lower the heat and put the pork in to cook. Then, put it in water to cool and use a strainer to get rid of the water.
Put a lot of water in a large pot to heat; then put the somen in to cook. After the somen is cooked, put it in a strainer and run water over it to cool it down. Use your hands to wash the somen to remove the sliminess. After straining the water, press down on the somen to remove all the water.
Place 4) on a plate, put 3) on top, and use 1) as toppings. Pour 2) on top and use as much chili oil as preferred.
MOA Products Used
Bonito soy sauce, sesame oil, Shirogane pork shoulder roast [for shabu shabu], Honba Banshu somen.


This recipe was published in the magazine "Paradise" No. 80 (Summer 2020).