Tags:AutumnRiceflourFruitsSweets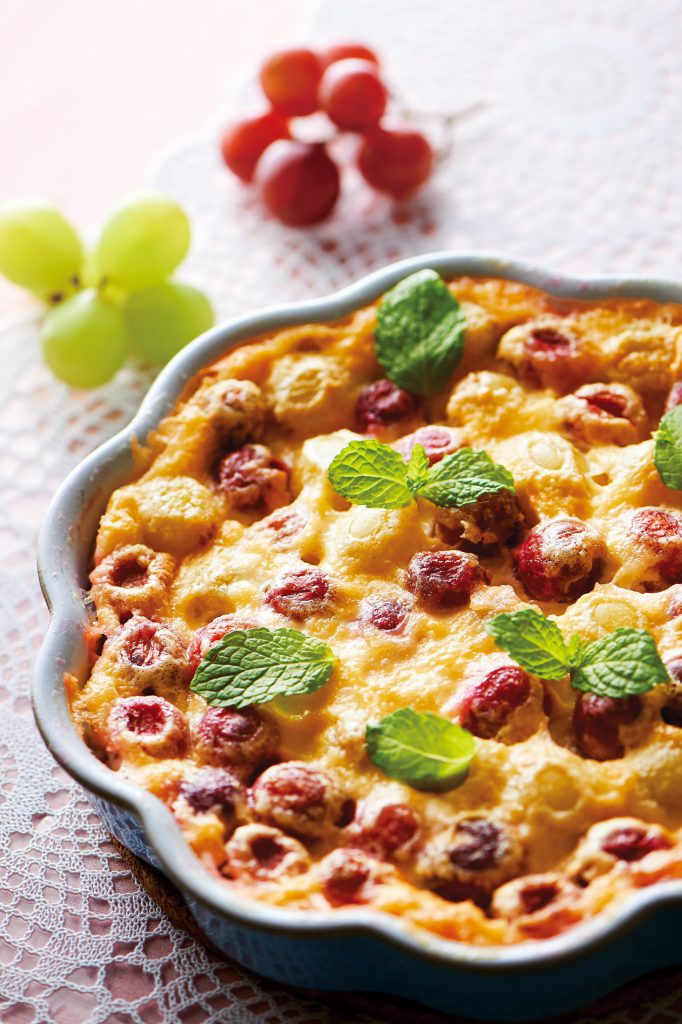 Pointers from Rie
This is delicious warm or cold, and with whip cream or ice cream.
The density of rice flour is heavy, so it sinks when baking and creates a two layered texture; creamy pudding-like top and a chewy [mochi or uirou like texture] bottom.
Rice flour does not have to be sifted and does not stick easily so it is easy to clean up after. It is recommended to use rice flour when cooking with children.
Ingredients [21 cm size container]
Grapes
1bunch [about 200-300 g]
Butter
20g
a)Rice flour
  Sugar
  Eggs
Vanilla extract
50g
30g
2
small amount
Milk
200cc
Mint
suitable amount
Cooking
Preheat the oven to 170 Celsius degrees.
Use grapes with skin that are edible. Take the seeds out of grapes.
Melt the butter either by warming something in a vessel placed in hot water or by microwaving for 30 seconds.
Lightly spread butter on a pan and sprinkle rice flour over.
Put a) in a bowl and mix, avoiding clumps.
Put 3) in 5) and mix. Then, add milk and mix.
Pour 6) in 4) and place 2) on top, then place it in the oven for 40 minutes at 170 Celsius degrees.
Once you let it cool slightly after baking, decorate with the mint. It is by preference and it is OK to eat it cold.
MOA Products Used
Powder rice, tea sugar, free-range fertilized egg, MOA delicious milk.


This recipe was published in the magazine "Paradise" No. 78 (Autumn 2019).