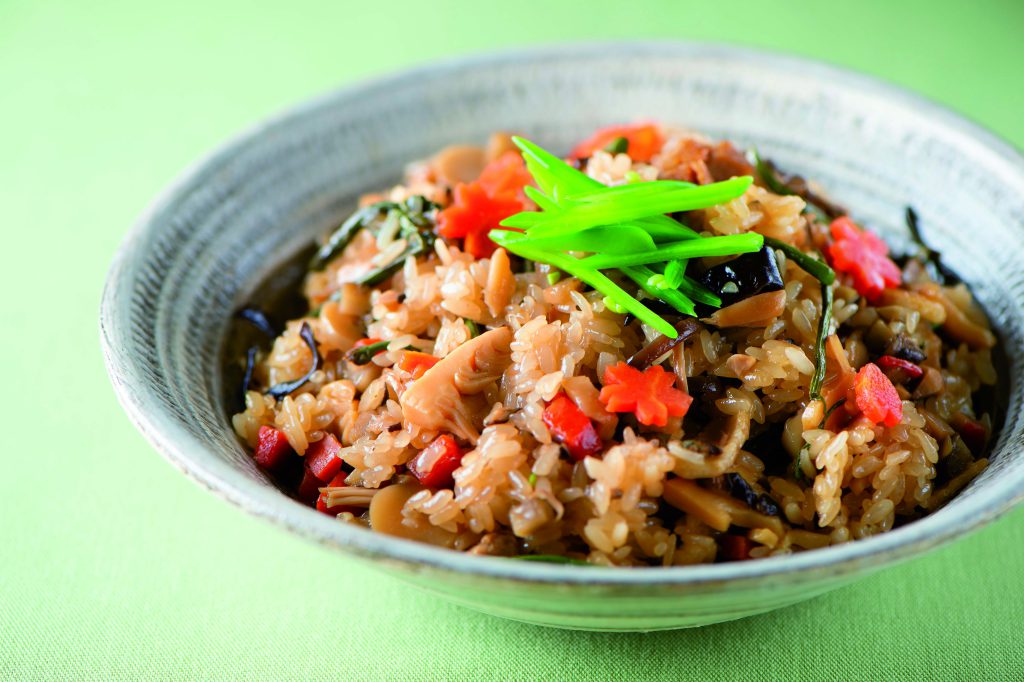 Pointers from Rie
After a cold winter, detox your liver by consuming spring vegetables that taste bitter.
Soak mochigome [mochi rice, glutinous rice, sticky rice, or sweet rice] in water overnight so the rice will be fluffy when cooked.
Spring vegetables are soft so avoid over cooking.
Mochigome is sticky after cooking. By using the microwave, the texture becomes chewy and light.
Ingredients [4 people]
Glutinous rice (mochigome)
2cups
Dried shiitake mushrooms
2
Water
200cc
Chicken breast
1/2(150g)
Fresh burdock
1/3(50g)
Carrot
1/5(medium size)
Snow peas
5 or 6
a)Boiled bamboo shoots
  Boiled sansai wild vegetables
50g
100g
b)Sugar
  Mirin
  Dark soy sauce
  Salt
1teaspoon
3tablespoons
3tablespoons
1teaspoon
Cooking
Wash mochigome and soak for about 3 hours or overnight. Drain in a strainer.
Soak dried shiitake mushrooms in water to soften and cut into small cubes. Save the water used to rehydrate dried shiitake mushrooms.
Cut the chicken breast into cubes (1 cm); Cut the burdock and carrot into small cubes (5 mm).
Boil the snow peas in salt water; cut into long strips. Cut bamboo shoots into quarter-rounds.
Heat the water used to rehydrate shiitake mushrooms using medium heat; add chicken, burdock and carrots to the water. When carrots are softened, add a) and b). Cover with lid and cook for 5 to 6 minutes.
Put mochigome in a microwavable bowl, cover with plastic wrap, and cook for 6 minutes at 600w.
Add boiled soup from 5) to 6) and mix well; cover with plastic wrap and heat 6 minutes at 600w.
Add ingredients (chicken and vegetables) from 5) and mix well; cover with plastic wrap and steam for 10 minutes. Transfer to a serving dish and garnish with snow peas.
MOA Products Used
Mochigome, chicken breast, mineral sugar mild, Zuiun dark soy sauce], and salt [Umikko]


This recipe was published in the magazine "Paradise" No. 79 (Spring 2020).